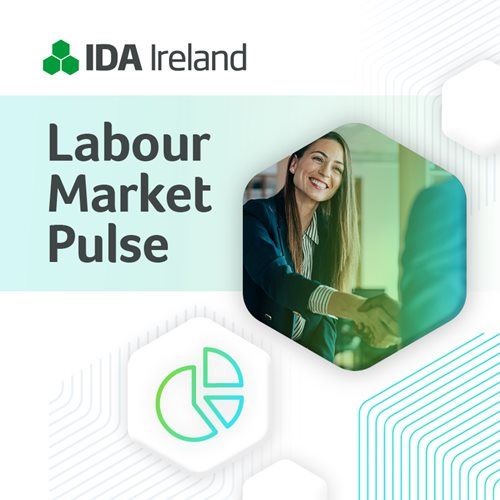 Read the latest Labour Market Pulse here
LinkedIn data shows that the share of AI talent in Ireland grew more than 500% between 2016 and 2022, from 0.34% of LinkedIn Members to 2.09%.
Recent emphasis on investment in AI resulted in an upturn in AI talent growth for both Irish (+28.5%) and global (+42.1%) figures between 2021 and 2022.
4th April 2023 –
IDA Ireland, in partnership with Microsoft and LinkedIn, has today published its latest Labour Market Pulse, which provides an overview of current insights and trends across the Irish labour market to help inform decision makers across business, academia and public policy.
This edition of the Labour Market Pulse highlights the rising importance of Artificial Intelligence (AI) skills among today's workforces and takes a closer look at the growth of AI in Ireland. AI, and the skills related to it, are central to empowering businesses to digitally transform their organisations.
The growth of AI is anticipated to positively impact jobs and skills across multiple sectors and many businesses are currently in the early stages of identifying their potential use of AI. Demand for AI skills continues to outpace supply and skills availability has been deemed the most important obstacle to the adoption of AI for companies. With the European Year of Skills set to begin in May, the World Economic Forum predicts that 97 million jobs involving AI will be created between 2022 and 2025 and overcoming current skills gaps will require targeted efforts.
The latest Labour Market Pulse also places a spotlight on gender diversity in AI teams. LinkedIn data shows that 1.36% of women and 2.55% of men in Ireland were considered AI talent in 2022. Despite this gap, progress is being made, with the number of women considered AI talent growing faster year-on-year. Between 2016-2022, there was a 40.5% increase in the number of women in AI compared to 34.7% in the number of men considered AI talent.
AI in Ireland
In 2022, LinkedIn members in Ireland working in the Education sector held the highest share of AI talent, at 6.36%, reflecting Ireland's strong position as a hub for research and innovation. Globally, LinkedIn members employed in Technology, Information and Media possessed the largest share of AI talent.
Ireland is responding to the shortage of AI skills by focusing on upskilling and reskilling employees and introducing initiatives to build capacity in AI, including the appointment of an AI ambassador, the introduction of a National Masters in AI, and a digital strategy for schools.
There are more than 105 courses in AI and related areas available across Ireland, which, combined with the highly skilled workforce and culture of innovation, make Ireland well positioned to lead in the development and adoption of AI.
Employment
Meanwhile, the Pulse also looks at employment rates in Ireland and highlights a continued slowing in the hiring rate from post-pandemic highs. Hiring rates in January 2023 were 27.2% lower than January 2022.
Following rapid hiring during the reopening of the economy post-pandemic, the labour market stabilised in 2022. Continued economic headwinds see employees appear to choose stability over change, with longer tenures also reflected in the decreasing hiring rate.
Simon Coveney, Minister for Enterprise, Trade and Employment commented:
"AI skills and talent are becoming increasingly vital for Ireland's economic growth and competitiveness in the global market. As AI continues to revolutionise industries across the board, those with the skills and expertise to develop and deploy cutting-edge AI solutions will be in high demand. Ireland has the potential to be a leader in this field, but it will require a concerted effort to cultivate and attract top AI talent to the country."
"I welcome this latest Labour Market Pulse on AI Talent, and the collaboration between IDA Ireland, Microsoft and LinkedIn, that underpins it. It highlights the huge growth in demand for AI talent and the opportunities for both individuals and businesses who have identified and invested in the necessary skills."
"I applaud the work of IDA Ireland in supporting and encouraging businesses to ensure that they have the digital and AI skills they need for the future."
Commenting on the Labour Market Pulse,
IDA Ireland Interim CEO Mary Buckley said:
''I welcome the data insights which shows that AI and digital skills are continuing to grow here in Ireland year on year. The increase in female enrolment in AI related education programmes is particularly welcome. Despite global uncertainty, it's encouraging to see Ireland react to the need to develop AI skills with a focus on upskilling and reskilling all the way from the workforce to a digital strategy for schools.''
Commenting on the Labour Market Pulse,
James O'Connor, Microsoft Ireland Site Lead and Vice President of Microsoft Global Operations Service Center, said:
"AI is a defining technology of our time, and we are optimistic about what AI can do for people, industry, and society. Already it is helping to solve some of society's greatest challenges, be that making farming more sustainable, protecting vulnerable communities from climate change, or cleaning up the world's oceans. As AI systems evolve, we expect that AI advances will change the nature of some jobs and work, and even create new jobs that didn't exist before. These shifts are similar to the changes we've seen with other major technological advances such as the invention of the telephone or the automobile. And like those changes, we expect this shift will require new ways of thinking about skills and training to ensure that workers are prepared for the future and that there is enough talent available for critical jobs.
"With the Government's Digital Ireland Framework seeking to have 75% of businesses using AI by 2030, it is welcome to see the strong growth in AI talent in the latest Labour Market Pulse and the new upskilling and reskilling opportunities that are coming on stream to help skill up Ireland for our AI age."
Head of LinkedIn in Ireland Sharon McCooey added:
"Despite the slowdown in hiring across the country, there are growth opportunities emerging in areas like AI and the green economy, as outlined in the previous Labour Market Pulse. While AI talent is very much in demand, there is a clear need to develop a pipeline of skilled professionals to take up these roles. Given the current tightness in the labour market, employers should focus on a skills-based approach to hiring. This is particularly relevant in the field of AI given that many of the third level courses available, such as AI for medical research, have only emerged in recent years."