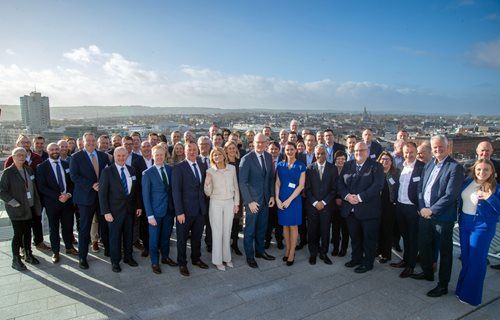 Wireless technology innovator expands strategic functions at Penrose Dock facility
Expansion is expected to create approximately 150 highly skilled specialist roles over the next four years
Qualcomm Technologies, Inc. a wholly owned subsidiary of Qualcomm Incorporated, has announced a $127M expansion of its Research and Development facility in Cork City. The investment is expected to create more than 150 highly skilled engineering roles over the next four years.
This project, which is supported by the Irish Government through IDA Ireland, seeks to create and develop core new knowledge for a broad range of industries, significantly advance skills capability in its subsidiary, QT Technologies Ireland, and advance the skillset of QT Technologies Ireland's R&D team. This expansion of facilities will see hardware and software research teams co-locate in the Cork facility.
Minister for Enterprise Trade & Employment Simon Coveney TD said:
"QT Technologies Ireland's expansion at Penrose Dock is fantastic news for Cork. Up to 150 specialized jobs will be created over the next four years, and I understand recruitment is already underway for many of these engineering posts. These roles which will provide excellent opportunities for our talent pool to join a world-renowned tech company such as QT Technologies Ireland. At the heart of this project is digital transformation, bringing QT Technologies Ireland's R&D, hardware and software teams together in Cork, and allowing for innovative and exciting new work to be undertaken. This announcement further highlights Ireland's position as a global hub for the world's leading tech companies, and I would like to thank Qualcomm Technologies for its continued investment in Ireland. I wish all the team every success with this new expansion."
Qualcomm Technologies provides critical advanced semiconductor technology to mobile communications and other industry sectors. Headquartered in San Diego California, Qualcomm Technologies has had a presence in Cork since 2013, where QT Technologies Ireland already employs hundreds of people.
"We are excited about this investment in QT Technologies Ireland where we continue ground-breaking engineering work."
Said Ajay Bawale, SVP, Engineering, Qualcomm Technologies, Inc.
"This project will introduce new highly specialized skills into Ireland and QT Technologies Ireland is currently recruiting engineers across several areas."
"We are very proud that this project means the highly skilled teams in Cork will be addressing market challenges by enabling industries such as manufacturing, automotive, hyperscale computing, gaming, medical and education."
Said Paul Kelleher, VP Engineering, QT Technologies Ireland Limited.
"Enabling Digital Transformation at every level. QT Technologies Ireland is a very exciting place to work, given our uniqueness in Ireland in developing the broad set of skills and capabilities required to execute on advanced process technology nodes."
"Since 2013, the QT Technologies Ireland facility in Cork City has grown from strength to strength. This globally recognised company, in its sector, is now creating and developing critical leading-edge tech, in a regional location."
said CEO of IDA Ireland, Michael Lohan.
"This latest investment increases the strategic functions managed by the leadership team at the Cork facility, significantly enhancing the South West of Ireland's established tech cluster. I wish QT Technologies Ireland continued success and assure them of IDA Ireland's continued partnership."
To explore opportunities to join the team in Cork, visit
Careers