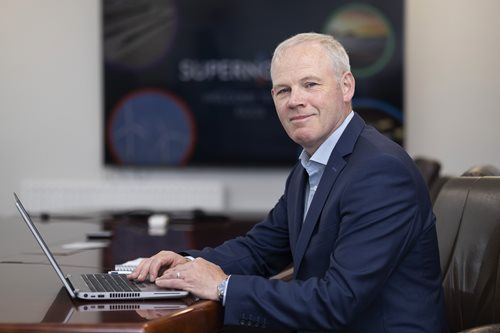 Dublin, Ireland – July 18th, 2023
– SuperNode today announced plans to continue its growth in Ireland through an investment of more than €40 million. This investment is intended to design, develop and manufacture High Temperature Superconducting ('HTS') cable systems. SuperNode is supported by the Irish Government through IDA Ireland.
SuperNode, is a technology company with 60+ staff operating out its Dublin technology centre, that develops revolutionary superconducting transmission technology for the renewable energy transition. Superconducting cables can transfer renewable electricity with reduced losses, costs and footprint compared to conventional cable technology. SuperNode uses liquid nitrogen to cool its cables to cryogenic temperatures and into a state of superconductivity, enabling incredibly efficient and high-density power transfer – up to 5 times more power than conventional cables at much lower voltage levels. SuperNode's superconducting cables will be commercially available by the end of the decade and will be a key technology advancement to enable the renewable energy transition.
Minister for Enterprise, Trade and Employment Simon Coveney TD said:
"I am really pleased with the significant investment announcement of over €40 million in R&D from SuperNode. This exciting new project, using revolutionary High Temperature Superconducting ('HTS') technology, will allow for renewable electricity transmission, with reduced losses, reduced costs and, importantly, a reduced energy footprint. It is another step towards a green and cleaner environment for us all, and as a Government, we support and encourage green initiatives that work towards our Sustainable Development Goals. SuperNode's technology will be key to enabling growth in Ireland's renewable energy network and I wish to thank them for this investment and wish them the best with the project.
Commenting on the announcement,
John Fitzgerald, CEO SuperNode said:
"We are grateful for the support of the IDA and the Irish Government towards the advancement of our ground-breaking superconducting transmission technology. This endorsement reinforces the Irish Government's mission to address climate change effectively and displays a commitment to supporting innovative solutions. With the right support from Government, Ireland can become a European hub for critical Grid and Renewable Energy Enabling Technologies - SuperNode is excited for the opportunities that lay ahead."
Michael Lohan, CEO, IDA Ireland said:
''SuperNode's commitment to investing €40 million in research and development in renewable energy innovation is really welcome news. Sustainability is a key area of focus for IDA and this investment showcases great dedication in shaping a sustainable future for all. I wish SuperNode great success with this project.''