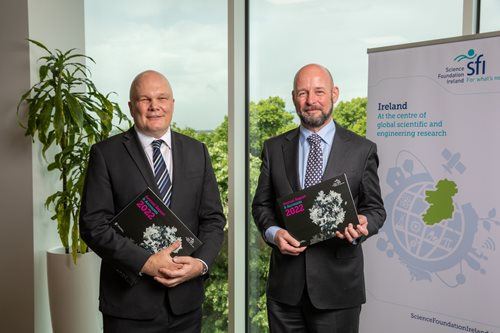 Researchers backed by Science Foundation Ireland bagged €85m in competitive EU funding last year as international collaborations rose.
Investment in Irish research and innovation increased by 14pc last year over 2021 figures as Science Foundation Ireland (SFI) leveraged €267m in external funding over and above a base investment of €213m.
According to the SFI annual report 2022
published
in September, researchers supported by the foundation engaged in 5,815 international academic collaborations across 87 countries, marking an increase on the
2021 figures
.
Nearly 6,000 people were working on SFI-supported projects last year, with 5,248 publications reported and €85m competitively won from the Horizon Europe funding.
Minister for Further and Higher Education, Research, Innovation and Science Simon Harris, TD, said SFI "continued to fund world-leading research of significant economic and societal impact for Ireland" in 2022, delivering on national priority areas set out by the Government.
"Along with supporting a diverse portfolio of early- to mid-career researchers and world-leading research professors, SFI funded 2,301 postgraduate research students, fostering future talent through excellent training," said Harris.
"The report demonstrates our growing reputation in research and innovation and the significant value it represents for the people of Ireland."
The report also notes that 27 of the most
highly cited researchers
in the world are funded by SFI and that SFI-backed publications are 2.4 times more likely to be star publications compared to the global average.
This improvement in research and innovation is evidenced by the fact that Ireland ranks 2nd in the world for agricultural sciences and 4th in both immunology and neuroscience and behaviour for publication impact, according to Clarivate.
Prof J Peter Clinch, chair of the SFI board, said that Ireland now ranks 6th in the world for university-industry R&D collaboration.
"In 2022, SFI launched new programmes to facilitate our becoming a green, sustainable, deep-tech innovation leader and furthered its economic impact with €61m secured from private enterprise in 2022 and over 1,500 regional industry engagements," he added.
Overall, the report details more than 300 research grants across 19 programmes that were funded by SFI, as well as support for STEM education at primary and secondary levels.
"We continue to forge new opportunities for ground-breaking research, improving our resilience and adaptability in a rapidly changing world, while striving to build a more inclusive and engaged research and innovation system," said Prof Philip Nolan, director general of SFI.
Despite progress in the funding and supports space, postgrad researchers in Ireland continue to face other "
prohibitive
" challenges, such as low pay, high costs and a housing shortage, researcher Tammy Strickland told SiliconRepublic.com in July.
Vish Gain
This article originally appeared on
www.siliconrepublic.com
and can be found
here