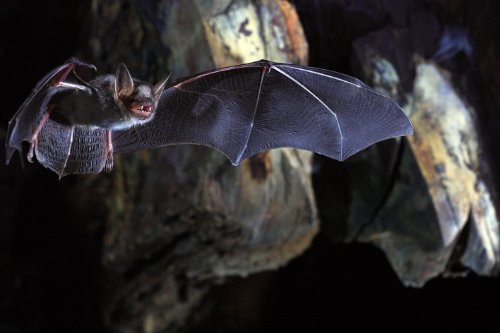 Bats and volcanoes research funded in UCD's latest EU award success
Prof Emma Teeling of UCD will lead an international project that studies bats to find 'new ways to slow down human ageing and disease resistance'.
Two Irish academics have been awarded funding from the European Research Council (ERC) to address important research problems across a range of disciplines.
Prof Emma Teeling and Dr Claire Harnett, both from University College Dublin (UCD), have been awarded the ERC Synergy grants for their research on how bats defy the ageing process and new ways to mitigate the risk of volcanic disasters, respectively.
The Synergy grants have been awarded to 37 teams across Europe and are worth €395m in total. The idea is to support ambitious researchers to work together by combining different skills and resources to address "some of the world's most formidable problems".
Teeling, who is a professor at UCD's School of Biology and Environmental Science, is working on research that uses bats as new models for healthy ageing and disease tolerance. She will lead a project called BatProtect that includes a team of 22 researchers from across the world to better understand bats' extended lifespans and disease resistance.
"We have just been given the most extraordinary opportunity to finally harness the amazing adaptations of bats and provide new ways to slow down human ageing and disease resistance," Teeling said upon winning the grant.
"This ERC Synergy grant has enabled us to unite the fields of bat biology, virology, immunology, genomics and gerontology, across Europe and Asia, in order to achieve our goals."
Meanwhile Harnett, an assistant professor and former Ad Astra Fellow at UCD's School of Earth Sciences, specialises in numerical modelling of volcanic environments.
She will work with colleagues in Germany, Sweden and France on the RottnRock research project to get a better understanding of volcanic processes to help predict and mitigate the hazards of unexpected eruptions and potentially avert volcanic tragedies.
Harnett said the project "builds on our growing momentum" to understand currently unforeseen volcanic hazards.
"One of the exciting aspects about the Synergy award is the capacity to build expert teams that will integrate information across four key disciplines (rock physics, geochemistry, remote sensing and computational modelling) to provide a step-change in our knowledge around volcanic eruptions that are driven by processes other than magma ascent," she said.
ERC president Prof Maria Leptin said that the selected projects are "shining examples of audacious scientific thinking".
"I am also happy to see some European researchers teaming up with peers across several continents. Together, they are well-equipped to tackle the substantial scientific questions that our world is yearning to find answers to."
"These awards really exemplify the excellence of our outstanding researchers, who are building important international collaborations to address global challenges," said Prof Helen Roche, UCD interim vice-president for research, innovation and impact.
Among last year's winners of the
ERC Synergy grants
was the HeavyMetal project led by Prof Padraig Dunne of UCD and Dr Stuart Sim of Queen's University Belfast. The project looks at how neutron star mergers create heavy elements.
In 2020, Ireland received its first ever
Synergy Grant from the ERC
, which was awarded to Prof Poul Holm and Prof Francis Ludlow from Trinity College Dublin. These researchers are leading a project to assess the importance of marine life to human societies during the last 2,000 years.
Vish Gain
This article originally appeared on
www.siliconrepublic.com
and can be found
here