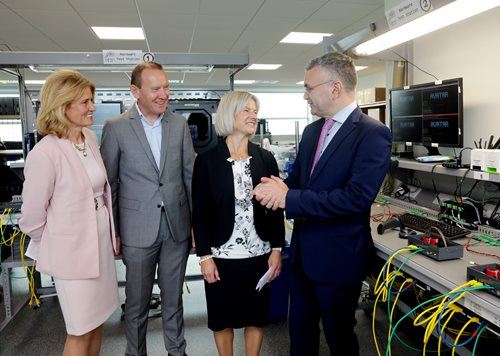 Westermo, yesterday formally opened its new site and announced plans for continued growth in Ireland, expanding capacity and adding a range of highly skilled engineering, research, and supply chain positions, along with a broad range of additional support roles.
The expansion of Westermo's R&D and Supply Chain Centres of Excellence in Dublin includes plans to hire 50 new employees over the next three years and will be supported by the Irish Government through IDA Ireland.
Having previously operated as Virtual Access, which was acquired by Westermo in 2019 – the Dublin team have been designing, developing, and manufacturing in Ireland since 1996 and have consistently demonstrated their capacity to innovate and deliver industry leading solutions. With solutions that are engineered with tools for remote provisioning, management, and control – Westermo ensures that networks are more sustainably commissioned and operated over extended lifespans for minimal environmental impact.
Minister for Trade Promotion, Digital and Company regulation, Dara Calleary TD said:
"I am delighted to hear that Westermo have announced plans to expand their presence in Ireland creating 50 new engineering and supply chain roles in Dublin. It is encouraging to see a globally recognised technology company further invest and grow in Ireland. The announcement again underscores Ireland's position as a global hub for the world's leading tech companies. Our skilled workforce is highly sought after, and this announcement ensures they will again play a huge part in advancements in the software and technology space. Best of luck to all the team at Westermo."
Westermo CEO, Ependion President and CEO, Jenny Sjödahl said:
''This investment is a critical part of Westermo's investment commitment to the market for large-scale remote access technologies where quality and reliability capabilities are so essential. The closeness of our development-and deployment-teams in Dublin demonstrates how deep technical expertise and support is such a great foundation to securing strategic long term framework agreements in critical infrastructure markets right across the globe''.
"As a leader in our segment, we are proud to invest in technologies that play a key role in important societal infrastructure such as trains, railways, energy production and electricity distribution. There is a wealth of talent in Ireland, and we are excited to be able to invest in the engineers of the future."
Mary Buckley, Executive Director of IDA Ireland said:
"The expansion of Westermo to grow their R&D and Supply Chain teams here is most welcome and Ireland is an ideal location in terms of availability of talent. Westermo's focus on minimal environmental impact through sustainably operated networks is a great development in the area of green energy. I wish the team continued success here.''