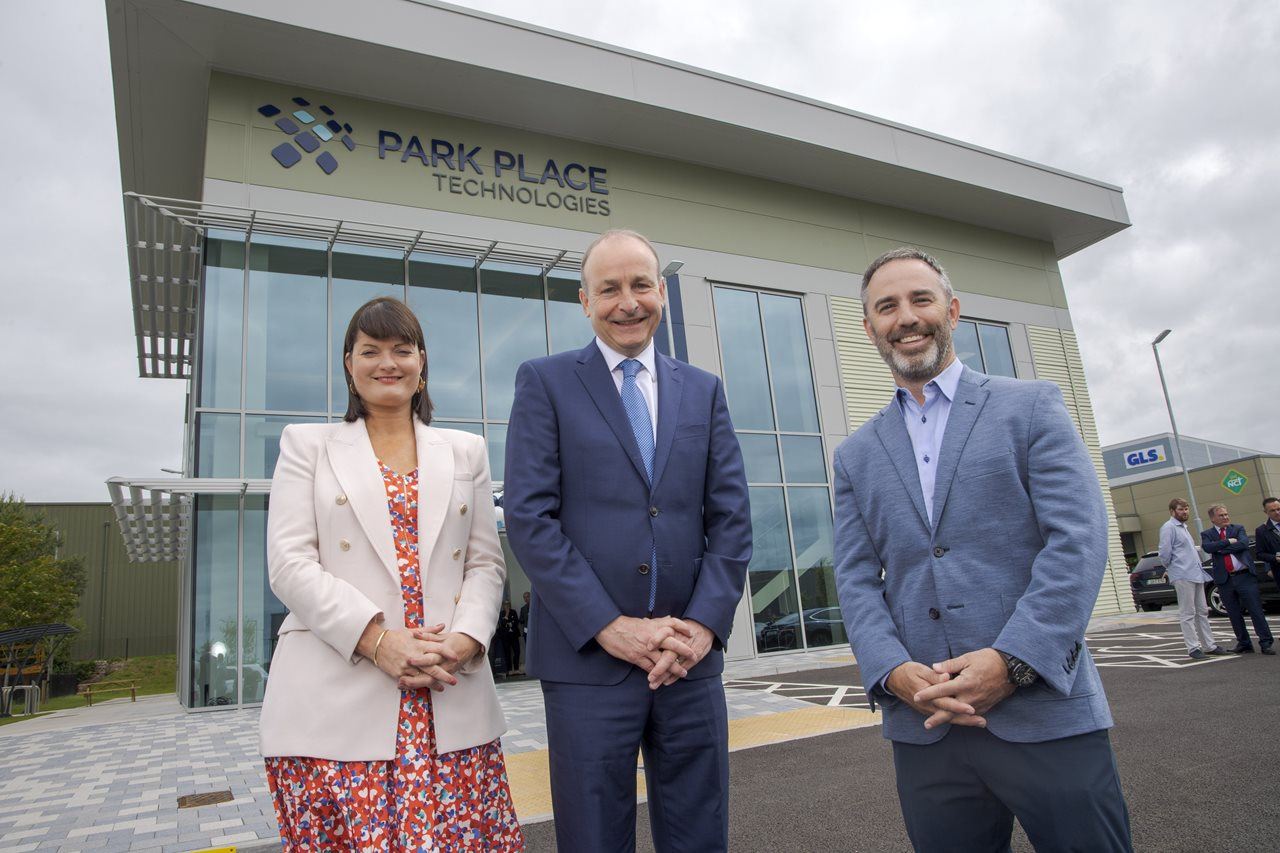 County Cork, Ireland 13 June 2022
--
Park Place Technologies,
the world's largest
global data centre and networking optimisation firm, has opened its long-awaited Support & Operations Centre at Blarney Business Park, Cork.
This project is supported by the Irish Government through IDA Ireland.
"I am delighted to welcome the official opening of the new Park Place Technologies facility in Blarney, a very positive development for Cork and for the broader region" Taoiseach Micheál Martin said. "The opening of the new facility is testament to the Park Place Technologies continued commitment to Ireland and the growth and success of the company here. The Government will continue to work to support our thriving technology sector, and leading companies such as Park Place Technologies, as we build on the record 2.5 million people now in employment in Ireland and ensure continued opportunities in the future."
Park Place's new flagship facility consists of 24,500 square feet. The new facility 6km north of Cork's city centre, will accommodate Park Place's growth, allow employee expansion (projected to double by 2024), offer a landmark facility for clients, and provide a high-quality meeting space for prospects and channel partners.
Work positions are filled with local talent, and recruitment will continue for highly skilled engineering and technology positions. These include multiple roles including Support Centre Representatives, Advanced Engineering Technical Support and Buyer Planners. Customer support at the facility is available in all European languages.
Park Place has a long history of investment and philanthropy in Ireland and the wider EMEA region. Its STEM efforts have included partnerships with CoderDojo, a non-profit that teaches children fundamental aspects of computer coding; and a laptop donation programme, TechForGood, with I Wish, an Ireland-based non-profit
committed to showcasing the power of STEM to teenage girls.
Ian Shearer, Park Place Managing Director, EMEA & APAC, said, "Park Place Technologies opened its first office in Cork in 2018. Our growth, commitment to the people of Ireland, and investment in local Irish communities through our STEM philanthropy has been consistent, dedicated and a tremendous addition to Cork's tech presence. Ireland is a prime destination from which to serve our European and global customer base."
"Park Place represents a modest investment for Ireland, but Ireland represents a major piece of our global investment in customer and employee experience," said Park Place President and CEO Chris Adams. "As Park Place gains more experience in nearly every region of the globe, it is clear to us that Ireland is a special strategic partner; and the people and business community of County Cork are truly world class in their collaboration, tech skills and vision for the future. We offer tremendous gratitude to IDA Ireland, which has offered insight, guidance and access to resources that have been invaluable to our investment."
The new Park Place building in Blarney Business Park represents a direct investment in Ireland. Park Place plans to host business and local community events in the facility, so it's a premises that will benefit the wider community in County Cork in an interactive and accessible way.
"Park Place does not want to be viewed as another U.S. business setting up shop for itself," said Chris Adams, Park Place President and CEO. "We do things differently when we invest in a community, and we want to prove ourselves as a part of the lives of the people of County Cork."
Department Manager, Technology Division at IDA Ireland Anne-Marie Tierney Le-Roux
said, "Congratulations to Park Place Technologies on the opening of its
Support & Operations Centre in Blarney Business Park. Since first announcing its arrival to Ireland in 2018

, Park Place Technologies has developed into an important member of the South West Region's established Tech cluster. I wish the team at Park Place Technologies every success as it continues to grow its presence here in Ireland."