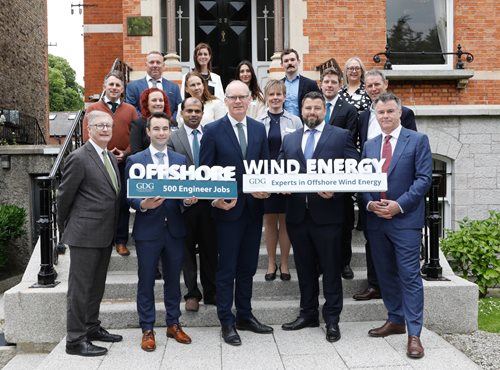 Dublin, Ireland – 31st May 2023
– Gavin & Doherty Geosolutions (GDG), a leading Irish-based, global offshore wind energy consultancy firm, today announced its plans to recruit up to 500 professionals over the next five years to support the establishment of an Engineering Hub focused on analysis and innovation to serve growing demand for its services, both domestically and internationally. GDG is headquartered in Dublin, with offices in Cork and Belfast, from where the company service offshore wind projects worldwide.
Founded in 2011 by Paul Doherty, a veteran of the Irish offshore wind sector, the company was acquired by UK-based Venterra Group in 2021. The new roles being announced today will focus on engineering analysis, numerical modelling, and offshore design, and will create opportunities across various grades, from graduates to senior level. Leveraging its solid international industry networks, GDG aims to reinforce its position as Ireland's leading offshore wind energy consultancy, while expanding its customer base in Europe, the United States, and Asian markets.
Today's announcement is supported by the Irish Government through IDA Ireland.
Welcoming the news
Minister for Enterprise, Trade and Employment Simon Coveney said:
"I am delighted to hear that Gavin & Doherty Geosolutions (GDG), plan to recruit 500 professionals over the next five years as part the establishment of an engineering hub for analysis and innovation. These new engineering roles are hugely welcome and create numerous exciting opportunities for skilled engineers of all levels. In addition to this welcome news, this project supports the Governments plans in aiming to have Ireland carbon neutral by 2050. We are committed to increasing the proportion of electricity generated from renewable energy sources from 30% to up to 80% by 2030. Wind energy provides an emissions free, clean and renewable energy source and initiatives like this that create employment and advancing our decarbonisation goals is fully supported. Congratulations to all involved in this exciting and innovative project."
GDG, has experienced a remarkable two years of rapid growth which is a testament to its expertise and industry leadership.
Founder Paul Doherty
has played a pivotal role in delivering 35GW of offshore wind projects. Doherty believes the offshore wind sector has been gathering domestic and global momentum, driven by the increasing decarbonisation targets set by governments worldwide. Speaking about the job announcement, he said, "Today's announcement further builds on GDG's successful track record of assembling an industry and world-leading team of experts to meet the growing demand for offshore wind energy. Our ambitions extend beyond Europe to the US and Asian markets as we strive to become theglobal leader in the offshore wind industry."
Welcoming the announcement
Michael Lohan, CEO, IDA Ireland said:
"GDG is a fast-growing engineering services company in the offshore wind sector. The expansion will add important capability to Ireland's offshore wind supply chain and positions Ireland as the firm's global engineering services hub to serve its growing customer base internationally."
Paul Doherty concluded by saying: "The offshore wind sector offers Ireland substantial economic and employment benefits and contributes significantly to addressing climate change. GDG recognises the importance of seizing the opportunities presented by offshore wind and is encouraged by the strengthening of policies and frameworks introduced by the various government departments and support from state agencies such as IDA Ireland".
Doherty emphasised the urgency of action, saying, "We cannot standstill - time is not on our side, we are investing in our future - we must grasp these opportunities."