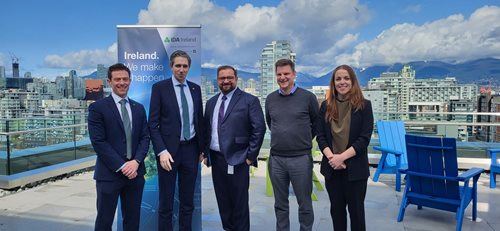 DUBLIN 22 June 2023 –
Minister for Further and Higher Education, Research, Innovation and Science Simon Harris today announced that Zymeworks Inc. (NASDAQ: ZYME), a global biotechnology company committed to the discovery, development and commercialization of novel, multifunctional biotherapeutics, is to establish a Clinical and Regulatory European Headquarters in Dublin with the creation of up to 20 new roles across activities such as regulatory affairs, clinical operations, clinical data management and support functions.
Zymeworks, which develops therapeutics to address difficult-to-treat cancers and other serious diseases has established an office in Dublin Airport Business Park, Swords and has recruited Jeffrey Smith, MD to serve as Senior Vice President of Early-Stage Development based in Dublin. The new Clinical and Regulatory European Headquarters will enable Zymeworks to coordinate clinical trials in the EU and progress early-stage clinical programs through its drug development process.
Speaking about the announcement,
Minister Harris said
"I am delighted to see the launch of this new headquarters in Dublin.
"I recently met with Zymeworks in Vancouver where I was delighted to hear about the company's plans for its new entity in Ireland. We have an established ecosystem for pharmaceutical and biopharma activity in Ireland offering regulatory stability, a talented workforce and easy access to the EU market.
"This announcement is another vote of confidence in Ireland, in our life sciences sector and in the talent of the Irish people."
Commenting on the new entity
Kenneth Galbraith, Chair and CEO
, Zymeworks said "Zymeworks is at an exciting stage of global expansion with a portfolio of antibody-drug conjugates and multispecific antibody therapeutics in clinical trials and preclinical development. We are excited to announce our establishment in Dublin, which will provide us with the opportunity to engage with European cancer researchers and investigators, and recruit a larger proportion of patients in clinical studies planned in the European Union during the global drug development process."
Welcoming the announcement,
Michael Lohan, CEO, IDA Ireland said
"Ireland's life sciences sector has a global reputation for operational and innovational excellence. Zymeworks joins a growing cluster of biopharmaceutical companies establishing corporate and technical management operations in Ireland. Zymeworks is the first Canadian biopharmaceutical company to establish an international headquarters in Ireland and IDA Ireland is committed to winning more investment from the region. We welcome the company's plans to create high value career opportunities and we look forward to continuing to work closely with Zymeworks."