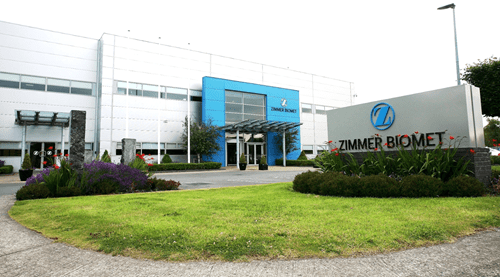 Zimmer Biomet, a global leader in musculoskeletal healthcare, is celebrating a decade in Ireland. A leading employer in Shannon and Oranmore, Galway, the company's footprint in Ireland now features two state-of-the-art manufacturing facilities plus a professional education centre that attracts healthcare professionals from around the world.

"Our team is at the heart of our success," said Claude Costelloe, General Manager of Zimmer Biomet's Ireland manufacturing facilities. "We are proud that our Ireland operations deliver products that treat a broad range of musculoskeletal health conditions and help alleviate pain and improve the quality of life for people around the world."

"While we are constantly looking to recruit high calibre candidates across all disciplines, including operations, quality, finance, validation, engineering, compliance and HR, I am proud that many of our employees have progressed their careers with us over the last 10 years," said Timmy Mulvihill, Manager, Human Resources. With the support of the company, a significant number are also continuing their education at the University of Limerick, NUIG, Limerick Institute of Technology and GMIT. We are committed to creating an environment in which our employees can use their creativity to achieve innovative solutions for patients and give back to communities and people in need. These values drive our decision making and are fundamental to our success."

Martin Shanahan, CEO of IDA Ireland, congratulated Zimmer Biomet on reaching the milestone.
"Exports of medical devices and diagnostic products represent eight percent of Ireland's total merchandise exports," said Shanahan. "As a global leader, Zimmer Biomet is a significant contributor to that number and a great example of successful investment in Ireland. In terms of economic impact, the company's two locations mean that the benefit is spread across Shannon and Galway, providing a substantial number of jobs and creating considerable benefit for both communities. I congratulate Zimmer Biomet on its achievements and wish Claude and the team continued success."

"Zimmer Biomet's reach extends beyond the two manufacturing facilities through its outsourcing sub supply and professional services, its contribution to local economic development through staff involvement in educational programmes via Junior Achievement, its corporate social responsibility support with the Mid-West Rape Crisis Centre and Milford Hospice and through employees' economic support of the local community," said Shannon Chamber CEO, Helen Downes.

"In addition, as Chair of the Mid-West Lean Network, General Manager, Claude Costelloe is playing a leading role in ensuring that the Mid-West region becomes synonymous with excellence in Lean and Continuous Improvement," Downes added. "Zimmer Biomet's open-door policy of engaging with other companies, sharing its knowledge and helping others on their Lean Journey must be applauded."

Tony Heffernan, Founder and CEO of charity BUMBLEance Ireland (The Children's National Ambulance Service) spoke about the company's commitment to social responsibility initiatives and its involvement with BUMBLEance Ireland. "We were delighted to be selected as Zimmer Biomet's national charity of 2018," said Heffernan. "A recent employee cycle race between Shannon and Galway raised more than Euro 10,000, which will help sick children around Ireland travel safely and comfortably to hospitals, hospices, treatment centres and respite centres nationwide."

"Our success in Shannon and Galway can be attributed to our talented employees, relentless focus on quality, investment in leading edge technology, and the building of a strong culture of innovation and continuous improvement," said Costelloe. "We have had a positive experience doing business here the last 10 years, and we look to the future with confidence."

About Zimmer Biomet
Founded in 1927 and headquartered in Warsaw, Indiana, Zimmer Biomet is a global leader in musculoskeletal healthcare. We design, manufacture and market orthopaedic reconstructive products; sports medicine, biologics, extremities and trauma products; office-based technologies; spine, craniomaxillofacial and thoracic products; dental implants; and related surgical products.

We collaborate with healthcare professionals around the globe to advance the pace of innovation. Our products and solutions help treat patients suffering from disorders of, or injuries to, bones, joints or supporting soft tissues. Together with healthcare professionals, we help millions of people live better lives. We have operations in more than 25 countries around the world and sell products in more than 100 countries. For more information, visit www.zimmerbiomet.com or follow Zimmer Biomet on Twitter at www.twitter.com/zimmerbiomet.