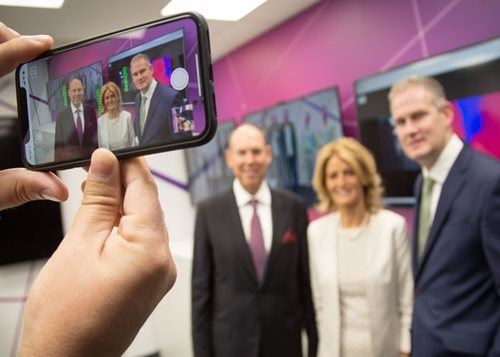 September 4th 2019. Galway - Xperi Corporation, a Silicon Valley based, publicly traded technology company with two subsidiaries in Ireland – FotoNation in Galway and DTS in Limerick – celebrated the official opening of its new FotoNation office in Galway, Ireland. Through an increased commitment to research and development (R&D) investment in Ireland, Xperi's DTS subsidiary plans to establish an innovation hub at its new Galway location. In addition, the Company is also working to expand its local engineering talent around high-potential growth initiatives, including premium audio, computational imaging, computer vision, and machine learning capabilities, just to name a few. These investments are expected to result in at least 50 new Ireland-based engineering positions over the next several years, with further R&D investment expected that would contribute to additional employment opportunities in Ireland. The expansion project is supported by the Irish Government through IDA Ireland.

Xperi and its portfolio of brands, including FotoNation, DTS, HD Radio, Invensas, and Tessera, are dedicated to creating innovative technology solutions that enable extraordinary smart device experiences for people around the world. Xperi's solutions are licensed by hundreds of leading global partners and have shipped in billions of products in a broad range of applications, including premium audio, broadcast, automotive, computational imaging, computer vision, mobile computing and communications, memory, data storage, as well as 3D semiconductor interconnect and packaging.

Xperi licenses its technologies and inventions to global electronic device manufacturing companies which, in turn, integrate the technologies into their enterprise, consumer electronics, and semiconductor products. The Company employs approximately 700 people worldwide with operations in the United States, Romania, South Korea, China, Japan, and Ireland, among other countries. In 2007, Xperi established DTS Licensing Ltd in Limerick, which operates as the Company's international audio licensing headquarters and currently employs 15 people. With its acquisition of FotoNation Ltd in 2008, Xperi added a second office location in Ireland.

With the opening of its latest FotoNation office in Galway, this location will now serve a a key innovation hub for Xperi. This will include supporting the development of FotoNation's driver and in-cabin monitoring solutions and its participation in a 11-partner consortium that recently secured Horizon2020 approval for an ECSEL project (HELIAUS) relating to infrared technologies and its applications to autonomous vehicles. Additionally, Ireland serves as Xperi's European headquarters, providing essential support to the Company's teams across its sales, operations, and finance functions in the United Kingdom, France, Germany and Romania, as well as servicing its international customer base.

Speaking at Xperi's official office opening in Galway, Xperi's Chief Executive Officer Jon Kirchner said, "Xperi is a company driven by innovation as we tirelessly reimagine what is possible from intelligent, integrated, and immersive technology operating at the edge. Our smarter technology enables extraordinary experiences through the sharpest images, most powerful sound, and highest-quality content delivered seamlessly to consumer devices and used every day around the world. We are proud to deepen our commitment to and presence in Ireland as we continue to drive Xperi forward and capture the immense opportunities that lie ahead as we look to accelerate growth. With the creation of an innovation hub in Galway, we are investing in the future to fuel our competitive and innovative edge."

Minister of State Sean Kyne welcomed Xperi's expansion into Galway, saying "I am delighted Xperi Corporation has chosen Galway as the location of its new research and development hub, building on and consolidating its presence in the West of Ireland with FotoNation in Galway and DTS in Limerick. Xperi's decision to expand in Galway is a further boost to the ICT cluster that we have and enhances Galway's reputation as a global hub for the development of some of the most exciting and innovative technological products and services. I know the proximity of both NUI Galway and GMIT proves vital in the decision to establish or expand in the West. I wish FotoNation and Xperi the very best for their future in Galway, and I commend the team at the IDA for their continuing efforts to secure such important investment."

IDA Ireland's Executive Director Mary Buckley said:
"Supporting the R&D activities of our client companies is of strategic importance to IDA Ireland. The choice of Ireland for these highly skilled roles by an innovator like Xperi is an endorsement of the talented workforce here. On behalf of IDA Ireland, I would like to wish Xperi's Galway and Limerick teams continued success."

"Today is a day of celebration for Xperi that reflects our position as an innovative leader in imaging and audio technologies over our 20-plus year history. Ireland has proven to be a wonderful host for our Company, supporting not only the expansion of our FotoNation subsidiary, but for the professional development of its many employees. We are grateful to the Irish government, particularly our partners at IDA, for their unwavering commitment to our growth," said Petronel Bigioi, Xperi's Chief Technology Officer, Imaging. "IDA's vision to support leading-edge development in the interconnect technology sector has played a central and ongoing role with Xperi's bias toward continuous innovation. This collaboration has enabled imaging technology invented and developed by our FotoNation team to provide consumers with the ability to take better pictures and videos in more than 3.6 billion devices around the globe. We look forward to relying on IDA to be a continued trusted partner as Xperi expands into new growth markets, including the development of new artificial intelligence based sound and vision technologies, as well as automotive and home applications of our leading imaging technology, that will contribute to the expansion of our Galway operations."

Gabriel Cosgrave, Xperi's General Manager, Europe said, "We are very thankful for our valuable and highly collaborative partnership with IDA as we benefit from their ongoing strategic insight to a number of key industry movements, labor skill sets, and key support initiatives that further strengthen Xperi's commitment to and presence in Ireland. Our expanded R&D facility in Galway will be a hub of excellence dedicated to delivering imaging, audio, computer vision, and machine learning solutions that support our customers around the world. Together with our presence in Limerick, our new office opening in Galway will enable Xperi to attract the very best engineering talent to support our competitive position as we develop and deliver the latest innovative solutions across our core automotive, home entertainment, and mobile markets."

For more information regarding engineering job opportunities, please visit https://www.xperi.com/careers/.

Note: Xperi, DTS, Invensas, FotoNation, Tessera, and their respective logos are trademarks or registered trademarks of affiliated companies of Xperi Corporation in the United States and other countries. All other Company, brand, and product names may be trademarks or registered trademarks of their respective companies.