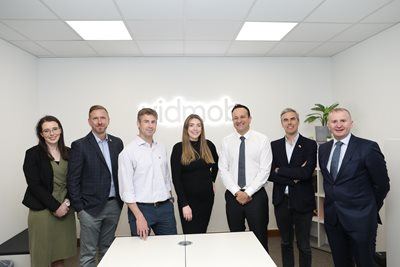 VidMob Expands Dublin EMEA Operation
Tech CEO tells Tánaiste of three-fold jobs increase in Dublin and investment in talent
Tánaiste and Minister for Enterprise, Trade and Employment, Leo Varadkar TD, met the U.S CEO and co-founder of VidMob, a world-leading platform for intelligent creative that has relocated its EMEA hub to Dublin.
Alex Collmer, CEO met with Government officials, IDA Ireland, clients and associates from the social media and digital tech sphere, at an event to mark the official opening of the rapidly expanding multi-national.
The Covid-delayed launch was hosted by Lisa Haskins, the Irish, Dublin-based Director of Marketing and Operations, EMEA & APAC, for VidMob.
VidMob pioneered an AI tool that very specifically measures the performance of marketing creative, allowing marketers optimise ad design for more efficient and impactful campaigns.
The company currently employs 21 people in its Dublin based EMEA office, with plans to double headcount in the next 12 months. Longer-term, the company is looking at up to 75 jobs, in the next three years, leveraging Irish-based tech talent to strengthen its client offering and achieve market targets.
VidMob is supported by the Irish Government through IDA Ireland.
Tánaiste and Minister for Enterprise, Trade and Employment, Leo Varadkar TD,
said at the opening;
"I'm pleased to have met with the VidMob team today and really welcome the company's plans to double its headcount this year and create 75 new jobs over the next three years. VidMob is an industry leader and it's a real boost that the company has chosen Dublin for its EMEA hub. Ireland's rich talent pool and innovative culture provide the perfect conditions for companies like VidMob to thrive. I wish the team every success as they take this next step in growing their business in Europe".
Dublin Move
The business has had an Irish office since 2019, when it was decided to move the VidMob EMEA headquarters from the UK to Dublin.
The U.S. company originally launched in London, and the Dublin move was linked to talent availability, and the fact that the Irish capital is deemed a better route for accessing partners along with remaining within the European Union.
CEO, Alex Collmer, told guests that the business settled on Dublin, as it has quickly become a tech-capital of Europe, with exceptional talent.
The New York-based company closed a Series C financing round last year, raising $50 million expansion capital from a combination of funds, strategic investors and influential companies in the creative technology space.
"Our move was due not only to access to Europe, but also the local access to exceptional talent and to partners such as Facebook, LinkedIn and Google, whose headquarters for EMEA are also based in Dublin".
The business, founded in 2014, has raised over $100 million to expand its ground-breaking platform for intelligent creative. It has global operations across the US, LATAM, EMEA and APAC, with offices in more than a dozen cities.
The latest funding will support VidMob's EMEA expansion from its Dublin hub to further locations around Europe, focusing on the UK, Switzerland, France and Germany in particular. New e-commerce initiatives are planned, and ongoing investment in advanced technology and data science to help clients maximise the value of advertising creative.
In EMEA specifically, VidMob has grown at least 100%, year on year, since setting up in Dublin. High-profile new client wins in the past year include Johnson & Johnson, Pepsi, Sumol & Compal and Colgate. The growth trend is set to continue, with additional new team members being recruited in client services and engineering, and two sales leaders in Enterprise and SMB (small and medium-sized business) recently on-boarded.
Jason Donnell, COO and Co-Founder of VidMob, said
"
It is an exciting time as we grow and build better relationships in Dublin. There is significant demand for our unique services which unify marketing creative and data by connecting brands to content creators and marketing analysts who are trained in creative best practice across every platform and next-gen ad format."
Welcoming the news, Denis Curran, Head of Regions, Property and Enterprise Development at IDA Ireland, said; "Ireland continues to be a leading destination for fast growing companies looking to internationalise their business and scale operations. It is great to see VidMob choose Dublin as the location for its EMEA expansion and join the growing cluster of global technology companies with operations in Ireland. I wish the team every success with their growth plans for their Irish operations".
Chiligum Acquisition
Late last year, VidMob acquired Chiligum, an advertising technology company headquartered in Sao Paulo, Brazil, that automates aspects of creative production to instantly deliver personalised advertising at scale.
This is particularly valuable for brands with large product catalogues and dynamic pricing and promotional approaches that need to be adapted and personalised to different markets and marketing formats.
Chiligum automation makes advertising production processes up to thirteen times more agile and efficient,
Lisa Haskins says."
This solution is the only one on the market with a 360-degree approach, supporting different formats such as video, stills, banners, OOH, all social media platforms and TV".
Significant Hires
Lisa Haskins is a DCU graduate, who came from LinkedIn's Dublin EMEA HQ. She says expansion of the Dublin team is core to global growth plans and the commitment to boost the VidMob global offering to local and EMEA businesses and brands.
Former Facebook Group Director of Global Partnerships, Anthony Lamy, recently took on the role of VP EMEA Client Partnerships in Dublin. Paul Carreo, who has 20 years digital marketing experience, was named Head of European Growth, having previously worked with Google as Head of Mid-Market Sales, UK & SMB EMEA.
Work is also underway to grow SME business, a sector where advertising efficacy and return on spend is especially crucial, according to Lisa Haskins, who says VidMob is planning significant further hires in Ireland this year. "
We will add headcount in areas such as software engineers, marketing, client services and sales, especially insights for small businesses. Some of the best well-educated talent globally is right here on our doorstep, so, as well as attracting industry executives, we will work with colleges to help develop graduates with the skills to meet demand for our innovative offering.
"Ireland's culture fits well with the company culture, and the business is here for the long haul. Being from Dublin, it's a great privilege to be able to grow our EMEA business development, here at home, from our base on Sir John Rogerson's Quay
", the Irish VidMob executive says.
FOR INFORMATION:
Sharon Bannerton
Managing Director, BANNERTON
Mobile:
+ 353 87 6731100
| Email:
Sharon@BANNERTON.ie
ABOUT VIDMOB
VidMob is the world's leading platform for Intelligent Creative that provides an end-to-end solution to help brands improve marketing results by unifying creative and data.
The company was included in Inc. magazine's annual list of the Best Workplaces for 2020, and received the Digiday award for Most Innovative Technology Platform and the 2020 Creative Intelligence Technology Innovation Award from Frost & Sullivan, as well as regularly being voted one of the best companies to work for. See:
www.vidmob.com
and
www.vidmob.gives
Intelligent Creative
VidMob can tell clients what colours, logo placement, duration, gaze direction and images will enhance marketing performance. The technology allows marketers assess effectiveness by breaking ads into small elements, which are then paired to performance data.
Clients can assess how specific content like animals, people, hair styles, and even emotions and facial expressions impact market objectives, like sales or sign-up.
VidMob is the only company in the world to receive a certified creative marketing partner badge from every major social and digital platform globally. These include Meta, Pinterest, Snap, Twitter, LinkedIn, Google/YouTube, Amazon, TikTok, Hulu and Reddit.
Talent Incentives
Regularly listed among the 'top places to work' accolades globally, VidMob benefits to attract talent include unlimited PTO (paid time-off), travel credit, parental leave, a mentoring programme, free health cover, and stock options.
When you're the one building our platform, you deserve true ownership of it
, is the principle.
Increased gender representation of women in the Irish workforce is an ambition, while diversity in recruitment is also strategic policy. Women represent 52% of the VidMob workforce globally.
STEM Agenda
In talks with the Tánaiste and with Damien English T.D., Minister of State for Business, Employment and Retail, VidMob outlined a number of initiatives to practically drive tech and STEM talent locally, promoting the understanding and ability of AI across schools and colleges.
Presentations, career guidance support, site visits and graduate work experience are planned, as well as third level bursaries and competition sponsorships such as hackathons.
VidMob Gives - CSR
As well as initiative to drive tech/stem learning, a portion of every dollar VidMob receives is used to fund pro-bono creative services for non-profits through its CSR initiative
VidMob Gives
.
Locally in Ireland, VidMob's CSR work to give back includes projects with Auryn's Heroes, Saint John of God Hospital Services, and with housing charities to help tackle the housing crisis.
When VidMob partnered with Auryn Phelan's family in 2020, to help launch their first ever fundraising media campaign, the results were spectacular. Auryn has neuroblastoma, a childhood cancer needing specialist treatment in the U.S. As a result of VidMob's successful digital campaign, the target of €375,000 was exceeded, raising €452,527 in just 3 months.