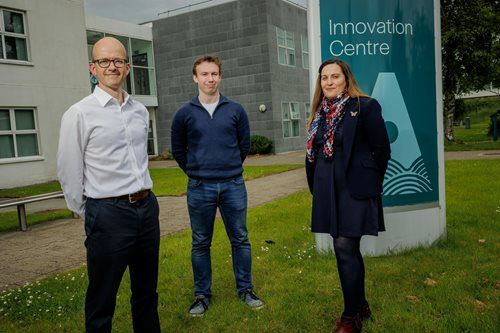 Sligo, Ireland, July 5, 2022 — Trailstone Group, a global energy and technology company, announced today that it plans to open a new office location in Sligo, Ireland, creating up to 20 new jobs over the next three years for the North West region and top tech talent graduating from the Atlantic Technological University Sligo.
Trailstone provides risk management, asset optimisation and energy trading services to owners of renewable energy assets. This expansion will allow Trailstone to tap into Irish tech talent to further support Trailstone's software applications which optimise the delivery of renewable energy and increase revenues in energy markets. Sligo, an up-and-coming tech hub conveniently located near the rugged coastline and historical landmarks, will be Trailstone's seventh and newest office location, with other offices located in the U.S., U.K., and Germany.
"We are proud to open our seventh office in Sligo, Ireland," said John Redpath, CEO of Trailstone. "With the Irish government's robust support of renewable energy and the proximity to top technical universities, Sligo is a perfect place for us to expand and further our mission of making sustainable energy sustainable."
Trailstone's expansion into Ireland is supported by the Irish Government through IDA Ireland.
Leo Varadkar, Tánaiste and Minister for Enterprise Trade & Employment said: "I'm really glad Trailstone Group has chosen Sligo as the location for its newest office, creating 20 jobs over the next three years. These are very specialised roles and great opportunities for Atlantic TU graduates and others in the area."
"Trailstone's work in the sustainability software space is more important now than ever. We need to leave the planet in a better condition than we found it. Renewable energy has a really important role to play, which is why we've committed to transforming our electricity grid to 80% renewables. Congratulations to the Trailstone team, I'm sure you will be very happy in Sligo."
Trailstone's office will be located within the Sligo Innovation Centre, which is home to 20 innovative companies and startups partnered with IDA Ireland. Trailstone's "Technology Team" will be the first group of employees to work out of the Sligo office, with the potential for other teams to be added over time.
Eileen Sharpe, Global Head of Engineering, Green Economy, Growth Markets, Asia Pacific said: "Trailstone is a welcome addition to Ireland's emerging sustainability software and services cluster and its decision to locate in Sligo, speaks to the presence of a strong talent pool in the North West region. I wish to thank Trailstone for choosing Sligo as its seventh location worldwide and wish the team every success with this expansion."
If you're interested in joining the Trailstone team and making sustainable energy sustainable, browse current openings on Trailstone's career page.