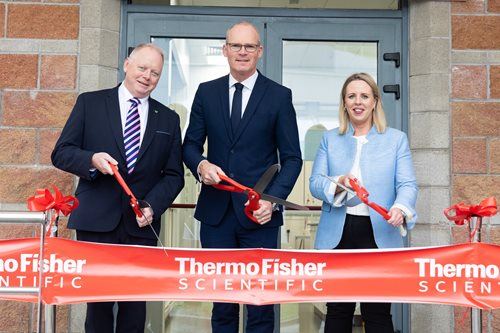 Thermo Fisher Scientific today officially opened an expanded laboratory at its Cork campus, effectively doubling its capacity that customers can access to develop medicines for cancer, lupus, diabetes, and psoriasis, among other illnesses.
The expanded Scale-Up Laboratory is the latest aspect of expansion at the company's active pharmaceutical ingredient (API) facility since 2019. There's been a five-fold increase in clinical manufacturing capacity and the site has gained more than 20 global pharmaceutical and biotech customers in recent years.
The research and development centre of excellence was officially opened by Simon Coveney TD, Minister of Enterprise, Trade and Employment.
Minister Coveney said:
"Thermo Fisher's investment in this cutting-edge laboratory underscores the innovation and collaborative spirit that drives Ireland's research and development sector. This facility will undoubtedly further position Ireland as a hub for pharmaceutical and manufacturing excellence."
"As a centre of excellence for chemistry development, our investment in Cork showcases Thermo Fisher's commitment to advancing development of critical medicines in Ireland,"
said Vincent Hingot, president of the company's Drug Substance business.
"Our Cork colleagues are helping make life better for patients around the world.'
Edel Collins, general manager of the Cork site, added:
"This 20-litre laboratory is important in the development of medicines as it allows us to identify and address scale-up risks prior to large-scale manufacture. With our existing laboratory at capacity, this new one will help address current demand while creating room for growth. It will allow us to support more customers and get potentially life-saving medicines to patients faster."
CEO, IDA Ireland Michael Lohan added:
"Today's opening of this Scale-Up Laboratory is a testament to the Thermo Fisher's commitment to fostering scientific excellence and ground-breaking research in Cork. This investment bolsters Ireland's reputation as a global hub for innovation. I'd like to thank Thermo Fisher for selecting the Cork facility as the location of this expansion and wish them continued success."
Thermo Fisher's Cork site specialises in developing and manufacturing active pharmaceutical ingredients supporting early phase clinical studies right through to commercial supply, for a range of customers for use in life-changing treatments.