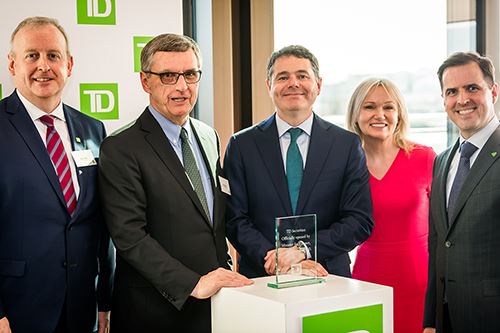 Dublin, 15 May 2019 - TD Securities is delighted to announce the official opening of its new office in Dublin, located at One Molesworth Street. Minister for Finance, Paschal Donohoe, T.D., joined TD Securities' CEO, Bob Dorrance, and IDA Ireland CEO, Martin Shanahan, at the official opening ceremony yesterday.

Headquartered in Toronto, Canada, TD Securities is a leading corporate and investment bank operating out of 15 offices in key financial centres around the globe. The company provides a full suite of capital markets products and services to corporate, government and institutional clients. TD Securities is part of TD Bank Group, a Top 10 North American bank by total assets, total deposits, and market capitalization, with C$1.3 trillion in assets and over 87,000 employees as of January 31, 2019.
TD Securities has had a presence in Dublin for more than 20 years and previously announced its intention to expand in the city. As a fully licensed broker-dealer, the company will grow its presence in Dublin to up to 80 people by the end of this year, including front office, support and control and technology roles.

Speaking ahead of the official opening yesterday, Minister Donohoe said: "TD Securities' decision to expand their operations in Ireland is a further sign of the global international financial services centre that we have built here, resulting in the creation of thousands of highly skilled jobs. TD Securities has been a part of the Irish financial landscape for over 20 years. It is very encouraging to see the continued expansion of the company in this way and I look forward to witnessing its growth into the future."
"With the natural growth of our business in Europe, we need to be where our clients are," said Peter Walker, Vice-Chair and Regional Head for Europe and Asia-Pacific, TD Securities. "Our long-standing history in Ireland and Dublin's deep talent pool resulted in the city becoming a critical part of our European strategy."

Commenting on the opening of the new office, IDA Ireland CEO Martin Shanahan said: "Ireland is a major international centre for financial services and technology businesses. Today's office opening by TD Securities is a major endorsement by a leading global investment bank in Dublin as a location for hiring both highly skilled capital markets and technology professionals. I strongly welcome the bank's long- term commitment to Ireland which has been deepened by last night's event".

About TD Securities
As a leading corporate and investment bank, TD Securities offers a wide range of integrated capital markets products and services. Our corporate, government, and institutional clients choose us for our innovation, execution, and experience.

With more than 4,400 professionals operating out of 15 offices around the world, we help our clients meet their needs today and prepare for tomorrow. Our services include underwriting and distributing new issues, providing trusted advice and industry-leading insight, extending access to global markets, and delivering integrated transaction banking solutions.

We are growth-oriented, people-focused, and community-minded. As an integrated team, we work to deliver value for our clients every day.
Media contact:
Sarah Nolan, Assistant Media Relations Executive IDA Ireland
+353 87 1017336
Sarah.nolan@ida.ie