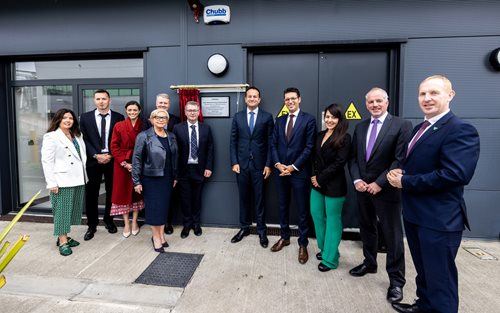 26th September 2022:
Tánaiste Leo Varadkar joined the global CEO of the biopharmaceutical company Ipsen David Loew, to launch Ipsen's newly upgraded manufacturing site in Blanchardstown, Dublin. The official site launch follows Ipsen's recent investment of €52 million to upgrade and expand manufacturing capabilities at the Dublin based site. The investment has supported the extension and acceleration of vital medicine production which helps patients suffering from both niche cancers and rare diseases in Ireland and across international markets.
The enhanced site has already enabled Ipsen Ireland's R&D and manufacturing teams to scale their API (active pharmaceutical ingredient) production by 10% this year versus 2021 - supporting increased availability of innovative treatment to improve the quality of life for people living with niche and underserved medical conditions globally.
Ipsen also plans a further €15 million of capital investment in its Blanchardstown site between 2023 and 2026 which will facilitate continued site enhancement from a technology and sustainability perspective. This additional investment is part of Ipsen's ongoing growth strategy for the Irish market as a biopharmaceutical leader providing transformative care across oncology, rare diseases and neuroscience.
Commenting on Ipsen's site launch and investment announcement,
Tánaiste Leo Varadkar
said: "I very much welcome Ipsen Ireland's upgraded manufacturing site in Blanchardstown. The company has made a significant investment in this facility which produces treatments for patients with rare and life-limiting conditions. It's great to see a biopharmaceutical company which has been here for over 30 years continuing to invest and grow in Ireland, particularly when the goal is to help more patients achieve a better quality of life through its medicines.
"Ireland is a world hub for life sciences and we've worked hard to create a welcoming environment for companies. We also want to be a global leader in innovation. This approach has helped the Government to attract numerous significant investments and it means that Ireland is well-positioned to attract more jobs in the future."
Ipsen CEO David Loew
added: "The Irish market plays an important role as part of Ipsen's international network and Ipsen is committed to continued investment and innovation in Ireland to support improved care for patients across the therapeutic areas we serve – oncology, rare disease, and neuroscience. This new investment in Dublin is a milestone in our ongoing journey of innovation and our growing footprint in Ireland. We hope to continue building Ipsen Ireland as an important pharmaceutical manufacturing and development site within Europe. Now we welcome the continued efforts of the Irish Government to invest in the innovative medicines that will enable Ipsen Ireland to transform even more patients' lives."
Tim Shanahan, General Manager & Vice President of Manufacturing for Ipsen Ireland
commented: "We are delighted to officially launch our upgraded Blanchardstown site following recent investments, and we're proud of the significant impact our manufacturing improvements have already delivered with our treatment output growing by approximately 10% this year compared to last year. Our team of 175 employees here in Dublin are committed to producing life-enhancing care for patients with rare and underserved medical conditions. It's great that continued investment in our Irish site is enabling our dedicated team to manufacture at pace and scale to help even more patients in need – not only here in Ireland but in various markets across the world."
In addition to its site upgrade, Ipsen is committed to supporting and building its team of 175 employees in Ireland working across research & development (R&D), manufacturing and commercial operations, to deliver specialty care APIs for patients with rare and underserved conditions. The company has expanded its Blanchardstown workforce by 20% since 2019 and is focused on driving continued research and innovation through its R&D division - growing its team of chemists and analysts by 10% over the past two years.
About Ipsen
Ipsen is a global, mid-sized biopharmaceutical company focused on transformative medicines in Oncology, Rare Disease and Neuroscience. With Specialty Care sales of €2.6bn in 2021, Ipsen sells medicines in over 100 countries (35 with a direct presence). Alongside its external-innovation strategy, the Company's research and development efforts are focused on its innovative and differentiated technological platforms located in the heart of leading biotechnological and life-science hubs: Paris-Saclay, France; Oxford, U.K.; Cambridge, U.S.; Shanghai, China. Ipsen has around 5,000 colleagues worldwide and is listed in Paris (Euronext: IPN) and in the U.S. through a Sponsored Level I American Depositary Receipt program (ADR: IPSEY). For more information, visit ipsen.com
Ipsen in Ireland
Ipsen Ireland is a key part of Ipsen's global biopharmaceutical business and is committed to delivering transformative medicines that improve the lives of patients in need across three therapeutic areas – oncology, rare diseases and neuroscience.
Ipsen has been in Ireland for over 30 years, pioneering innovation across manufacturing, R&D and commercial activities at its site in Blanchardstown, Dublin. Ipsen Ireland produces the active ingredients for two of the company's innovative cancer treatments