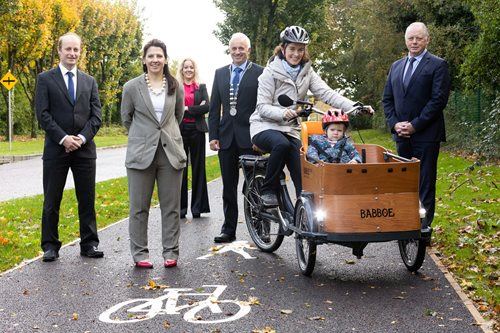 28 October 2021, Cork, Ireland –Stryker, one of the world's leading medical technology companies, together with IDA Ireland and Cork County Council, officially opened a section of cycleway today at IDA Business & Technology Park, Carrigtwohill, Co Cork. The new amenity, developed and constructed by IDA Ireland, will form part of the Cork County Council-led initiative to develop an interurban strategic cycleway linking Dunkettle and Midleton. During the development of the cycleway, Stryker provided land and support for the newly completed section, which offers an alternative transportation route that aims to reduce car usage in the county.

The completion of this section of the cycleway is an integral part of a larger initiative to construct a cyclelink across Cork county and into the city. Public and private sector organisations united in an effort to develop and execute this section of cycleway at IDA Business & Technology Park, Carrigtwohill. The official opening was attended by representatives from Cork County Council, IDA, and Stryker.

IDA Ireland recognised the support of Stryker in developing this section of the cycleway that, when completed, will create a link that spans several kilometres from Midleton to Dunkettle.

Ray O'Connor, Head of Regional Development, IDA Ireland said, "Part of IDA Ireland's strategic focus is to support both green investment in our client base and across our property solutions. We are very pleased to collaborate with Stryker and Cork County Council on this cycleway. Stryker's commitment to the region and their investment back into the local area highlights that their roots are firmly in Ireland, as an employer but also as an active member of the local and national community."

Speaking at the opening on behalf of Stryker was Mag O'Keeffe, Vice President of Manufacturing for Neurovascular. Ms O'Keeffe attributed the successful opening of the cycleway to the collaboration of organisations with a shared vision. "It is imperative that we build effective relationships to achieve a greater positive impact and reach than we ever could working on our own. This cycleway resulted from that approach," O'Keeffe said. "We were delighted to work with IDA Ireland, our neighbouring companies and Cork County Council to develop this section of an alternative transport corridor."

Ms O'Keeffe also reiterated how the support of the cycleway is a reinforcement of the company's ongoing pledge to sustainability. "As a leading supplier in healthcare, we understand that there is a significant connection between the health of our planet and human health. That's why we consider our sustainability strategy – to positively impact people and our plant through responsible sustainability practices that create a better, healthier world – in all the decisions we make as a business."

Stryker has a robust sustainability strategy globally that supports their goal to become carbon neutral by 2030. Ireland is very much on target to achieve this goal, with Stryker's Irish manufacturing sites now using 100% renewable energy generated by wind turbine farms and all sites containing 100% LED lighting, retrofitted with occupancy sensors. The use of renewable energy reduces the Irish operations footprint by approximately 20,000 tonnes of carbon emissions per year, the equivalent of removing 4,000 cars from the road.

Many other energy efficiency projects are underway at local Stryker sites, including heat recovery to help reduce waste. In 2020, one of its Ireland sites reduced carbon emissions by over 200 tons by utilizing reject heat from a site chiller process. The company maintains a keen focus not only on its large-scale global targets, but also local initiatives across all its sites. Recognising the collective buy-in required by all team members, the company has focused on changing daily behaviours and procedures that enhance sustainability efforts.

Stryker's Director of Corporate Sustainability and Environmental Health and Safety, Erol Odabasi, explained how initiatives are steered to completion at the company's various sites. "Our local initiatives are driven by our local teams and, often, these projects are a result of suggestions that came from our employees," Odabasi said. "Whether it's reducing water, supporting a cycleway or planting pollinator habitats, we are always focused on what we can do better in our communities. Stryker aims to be at the forefront of sustainability initiatives, supported by an ambitious global strategy. We are proud of what the teams in Ireland have achieved and look forward to seeing their future plans."

Mayor of the County of Cork Cllr. Gillian Coughlan welcomed the opened section of cycleway saying, "This important part of the strategic cycleway between Midleton and Dunkettle will greatly enhance quality of life for residents and workers in the region. Thanks to cooperation between local and national government bodies and private enterprises, local economic growth will tie hand in hand with safe active travel options, promoting healthier people in a healthier environment."

Chief Executive of Cork County Council Tim Lucey added, "The Section of Cycleway at Carrigtwohill that will form part of a route from Dunkettle will be a vital part of the future infrastructure of Cork Harbour. This region is of immense cultural, environmental and economic importance and will support vibrant and prosperous communities long into the future. The support of Stryker, a key employer in the region, is most welcome, as the company and its employees will benefit directly from such works."

END