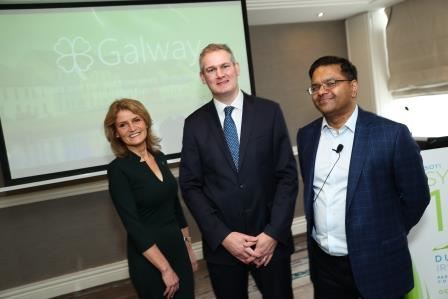 DUBLIN, Oct. 2, 2018 -- SOTI SYNC -- SOTI Inc., the world's most trusted provider of mobile and IoT device management solutions, has reinforced its commitment to growing its Ireland operations as a European tech hub, following today's announcement of its new Galway office. In Phase One of SOTI's expansion into Ireland, the business will make an initial investment of over €20 million Euros, create 50 immediate new jobs, with a further 100 to be created over the next three years.

The investment is supported by the Irish Government through IDA Ireland.

SOTI has experienced 93 consecutive quarters of profitability, with more than 17,000 enterprise customers. The opening of the Galway office represents a significant milestone for the company, which now has 10 global offices, and a workforce that will exceed 1,000 employees by the end of 2018.

SOTI President and CEO, Carl Rodrigues, said that the company plans to strengthen its European footprint with a permanent presence in Ireland. "Ireland forms an integral part of our long-term growth strategy, as it has developed an excellent reputation for being a technology-based economy, home to a vast array of tech companies – from giant multinationals, to new start-ups. Galway is already home to many Fortune 500 companies, making it a particularly attractive destination to source experienced development and sales talent. We are proud to be officially open for business in Ireland, and I encourage all potential new hires to be a part of something big – join SOTI and make your career limitless."

Commenting on the new SOTI Galway office opening, Minister of State at the Department of Communications, Climate Action and Environment Sean Kyne said, "A successful economy is one in which businesses of all shapes and sizes, from start-ups to local SMEs to multinationals, are supported to develop and grow. In a similar way, SOTI helps businesses to succeed through mobile and Internet of Things device management solutions. SOTI's decision to choose Galway for its new office is a further boost to the city, the county and the West of Ireland and perfectly complements our strategy of developing the Atlantic Economic Corridor. I wish the team at SOTI all the best of their future in Galway."

IDA Ireland Executive Director Mary Buckley said that SOTI is a welcome addition to the ever-increasing portfolio of tech clients that choose to invest in Ireland. "We are delighted that a well-respected, mobile-first, Canadian company like SOTI has selected Galway as the latest location in its global expansion. This is a mutually beneficial relationship where Ireland will benefit from technological innovation and job creation, while SOTI will have the freedom to operate in a connected, pro-business environment."

The opening of the Galway office was one of several exciting new developments announced at the 2018 SOTI SYNC Partner and User Conference in Dublin. It comes as part of a wider European expansion in the wake of new and evolving uses of business-critical mobility in core verticals, including retail, healthcare and field services.

Fueled by the growth of the company's integrated platform, SOTI ONE, enterprises struggling to manage the chaos of connected devices, especially where mobility is critical to their business, have taken stock. The SOTI ONE Platform enables enterprises to maintain worker productivity, build applications faster, automate with business intelligence, and manage mobile devices and IoT endpoints.
SOTI is committed to continuing to grow Ireland as a #tech hub and just announced a new Galway office, which will create 150 new jobs over the next three years. Get the details and learn more about our global expansion: https://t.co/2wORtWf7bB #SOTISYNC18 pic.twitter.com/FrGkhAFBmM

— SOTI Inc. (@SOTI_Inc) October 2, 2018
About SOTI Inc.
SOTI is the world's most trusted provider of mobile and IoT device management solutions, with more than 17,000 enterprise customers and millions of devices managed worldwide. SOTI's innovative portfolio of solutions and services provide the tools organizations need to truly mobilize their operations and optimize their mobility investments. SOTI extends secure mobility management to provide a total, flexible solution for comprehensive management and security of all mobile devices and connected peripherals deployed in an organization. For more information, visit www.soti.net