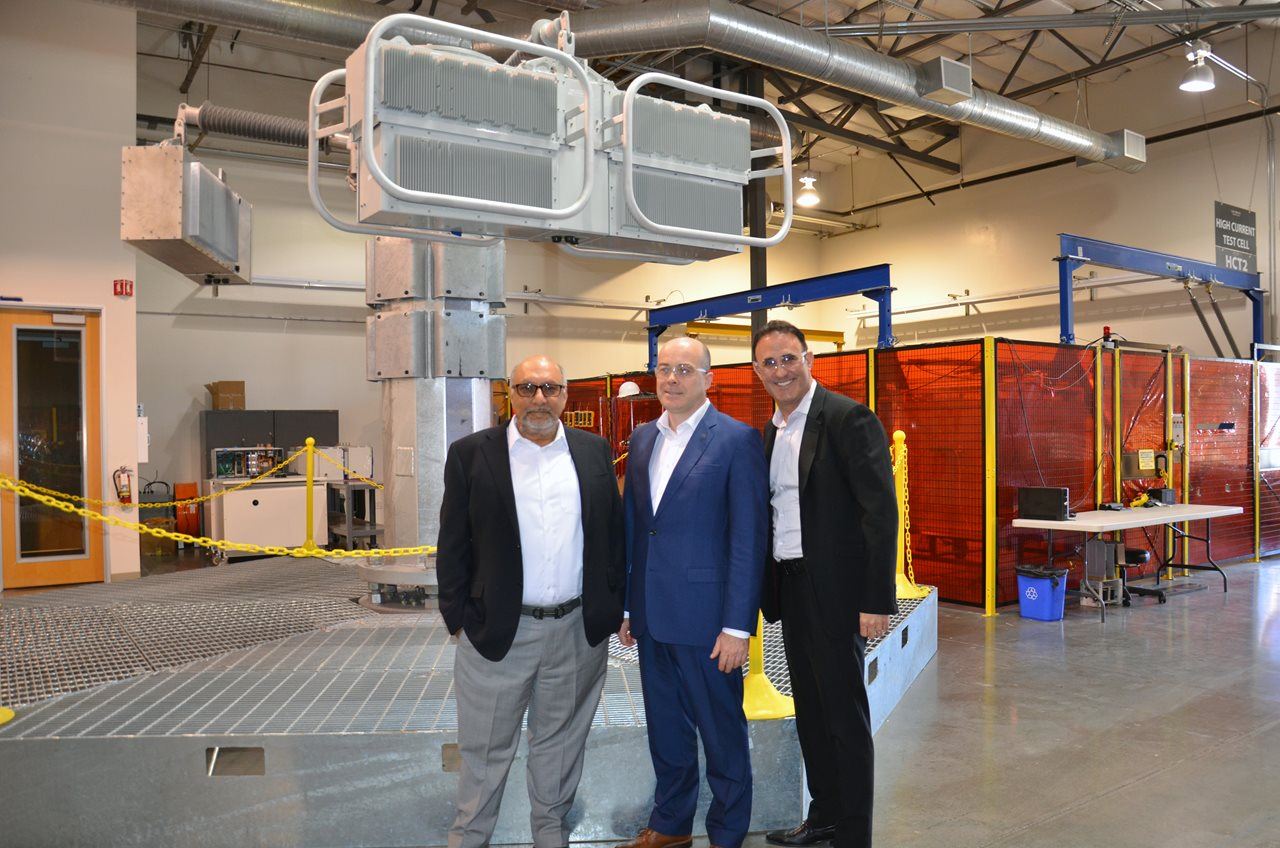 Dublin, Ireland and Union City, CA – Sep 12, 2018 - Minister for Communications, Climate Action and the Environment, Denis Naughten TD visited Smart Wires HQ in Union City, California today where the company CEO Gregg Rotenberg confirmed the opening of Smart Wires' European Headquarters in Dublin, Ireland. Smart Wires will create 40 jobs in Europe over the next 3 years with 10 of the roles being filled immediately in Engineering and Business Development.

This investment is supported by the Irish Government through IDA Ireland.

Smart Wires technology allows electricity companies to route power around the existing grid reducing the need for new lines. The solutions can be delivered and installed in weeks allowing power grid companies to respond much faster to the needs of generators, customers and communities.

Gregg has been highly impressed with European leadership on the energy transition "Smart Wires is experiencing most of our fastest growth in Europe. The need to decarbonize energy in a way that respects local communities is high on the agenda of European industry leaders and we are proud to have a solution that can help achieve this".

Speaking from Union City, California Minister Denis Naughten T.D said "I very much welcome today's announcement from Smart Wires. Technology is central to the Government's plans for jobs and growth, and in the past two years we have added substantial jobs in this area. I have been highly impressed by the talent and technology I have seen here today. The news that Smart Wires is basing its European Operations in Ireland is a clear endorsement of our business environment and talented workforce and the leading role Ireland is playing in integrating renewable technologies onto the grid."

Smart Wires was founded in 2010 and currently has a global team of over 200 engineers working to re-invent the power grid. The European team is delivering projects in the UK, Germany, France and Greece this year and is experiencing rapid growth across the continent.

Smart Wires Managing Director for the Europe Region, Michael Walsh added "This is a special company with technology that will change how utilities everywhere think of power grids. We can now solve problems in weeks that traditionally took years. Our flexibility means we can respond to changing demands as they happen – saving customers money and reducing our impact on the environment and communities".

Commenting on the announcement, Martin Shanahan, CEO, IDA Ireland, said, "Smart Wires was attracted to Ireland due to the country's international reputation as a location where companies can quickly establish their operations and rapidly expand using the strong pool of tech talent. The European HQ in Dublin will play a central role in the company's international expansion."
 
About Smart Wires:
Today's electric grid has become extremely challenging to manage, due to a rapidly changing generation mix, evolving electricity consumption patterns and public resistance to new construction projects. Utilities are demanding more flexible and economic solutions and need to capture more value from their existing grid. Despite the fact that global power grids were built without "valves" to control the flow of power, visionary utilities have recognized the benefits of moving towards a more flexible and efficient grid.

Smart Wires' revolutionary power flow control solutions provide the first highly intelligent "valve" for transmission grids. By dynamically increasing or decreasing line reactance, utilities can quickly and inexpensively capture excess capacity that exists on their grids today. This modular technology is quick to install, easy to redeploy and provides the flexibility needed in today's uncertain landscape.