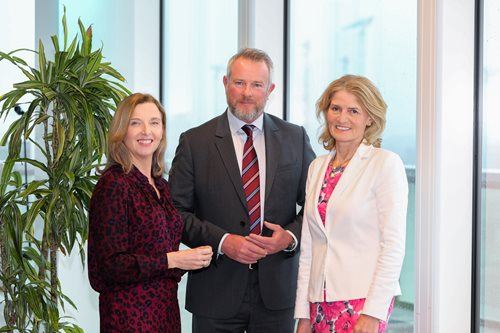 Sustainability Leaders Programme, delivered by Skillnet Climate Ready Academy, underway for IDA Ireland member companies to achieve sustainability targets.
Skillnet Ireland and IDA Ireland have partnered to roll-out a Sustainability Leaders Programme delivered by the Skillnet Ireland Climate Ready Academy for IDA client companies. The interactive programme for 24 participating companies will support these businesses to develop and implement climate-positive and carbon reduction measures.
The opening Sustainability Leaders Programme workshop took place this morning at the IDA Ireland Headquarters in Dublin 2. The programme will run for twelve weeks, incorporating six workshops, and aims to drive and assist both firms and sustainability professionals to embrace sustainable business practices towards a decarbonised economy.
Those responsible for the sustainability management in their company will benefit greatly from the programme, and it is most suited to businesses still in the early stage of putting a sustainability strategy in place. The programme has the dual target of developing trainee skills at an individual level and delivering tangible impacts at organisation level.
The Sustainability Leaders Programme deals with the challenges that businesses face while transitioning to a sustainable business model and provides practical advice on how to overcome them through identifying the key organisational levers and actions that facilitate change.
Following the completion of the course, participating businesses will have a tailored sustainability report and charter for their business which captures the business case for action and an agreed plan for the first 12 months. The programme supports trainees in understanding where sustainability is used within the business and educates participants on how to conserve resources.
The creation of a Sustainability Charter equips companies with the knowledge and confidence to engage in sustainability and provide a roadmap for the upskilling of their staff.
The roll out of the latest Sustainability Leaders Programme comes at an important time for businesses. From January 2024 onwards, Irish businesses will at different stages be required to comply with the European Union's Corporate Sustainability Reporting Directive (CSRD) which will place significant responsibilities on these businesses to accurately report sustainability efforts and climate impact.
Registration for the next Sustainability Leaders Programme, which begins in early 2024, is now open to businesses at the following link:
www.climatereadyacademy.ie/ida
Mark Jordan, Chief Strategy Officer at Skillnet Ireland,
"Climate action and sustainability must now be a fundamental part of all business strategies. As new corporate regulations come into effect, there will be more responsibility for businesses to demonstrate that they are making an effort to become more sustainable. With the valued support of IDA Ireland and through the Skillnet Climate Ready Academy, the Sustainability Leaders Programme provides businesses with the necessary mentorship, support and guidance required to develop impactful and lasting sustainability plans."
Mary Buckley, Executive Director, IDA Ireland said
"Climate change is a reality and businesses need to adapt and become leaders in implementing positive environmental and sustainable practices. Programmes such as the Sustainability Leaders Programme which educates business leaders and helps them on their journey to becoming more sustainable are vital. IDA Ireland is delighted to be collaborating with Skillnet Ireland and the Skillnet Climate Ready Academy on this programme and I would encourage all Irish businesses to sign up for the next term in early 2024."
Maria Kelly of the Skillnet Climate Ready Academy said,
"For businesses, the transition to a green and sustainable future involves a critical and honest analysis of all aspects of the organisation, from supply chain to delivery. This will require new thinking, continuous development and upskilling for all employees within an organisation. The Sustainability Leaders Programme will give participants the vital onboarding they need to deliver this change, positively respond to the climate crisis and futureproof their business."