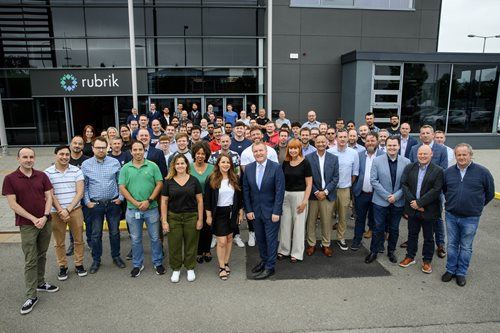 Cork – 24th July, 2023
- Rubrik the Zero Trust Data Security Company has officially opened its new office in Cork, Ireland, as part of its continued investment in the region and wider mission to secure the world's data. Rubrik was joined by Minister for Finance, Michael McGrath TD for a ribbon cutting ceremony as well as Chief Customer Officer, Giri Iyer.
Headquartered in California, Rubrik opened in Cork in 2017 and now plan to scale up investment in the region and open the doors for future talent through local university partnerships. Future talent is fostered through Rubrik's intern and graduate programs with local universities, including University College Cork and Munster Technological University.
Minister for Finance, Michael McGrath TD, said:
"Today's opening of Rubrik's new office in Cork is warmly welcomed by the Government. Cybersecurity, and recovering from ransomware in particular, is a top concern of both the business and government sectors at the current time and Rubrik is an established leader in the industry. I am pleased to see Rubrik experience such strong growth since its establishment in Cork in 2018 and I welcome its continued investment in nurturing talent, underpinned by its close partnership with local universities."
Giri Iyer, Chief Customer Officer at Rubrik said:
"The depth of talent we are able to access in Ireland has driven significant local growth. When we originally announced expansion to the region in 2018 we had plans for 50 new jobs in Cork. Since then, we have nearly doubled this headcount across engineering, customer support, and sales. The expansion of our customer services hub and other critical functions means we can help even more enterprises in EMEA tackle the ongoing threat of ransomware."
Michael Lohan, CEO of IDA Ireland commented:
"It's great to see a leading global company like Rubrik investing in Ireland, adding to the established cluster of expertise in data and cyber security. I wish them every success as they continue to grow their footprint here in Ireland."
Dr. Patrick McCarthy, Programme Director, Munster Technological University said:
"We are extremely focused on closing the cybersecurity and multi-cloud skills gaps. Our collaboration with an industry-leading organisation, like Rubrik, in achieving these objectives and developing the next generation of local talent in these areas is critical, both within the region and beyond."
About Rubrik
Rubrik is on a mission to secure the world's data. With Zero Trust Data Security™, we help organizations achieve business resilience against cyberattacks, malicious insiders, and operational disruptions. Rubrik Security Cloud, powered by machine learning, secures data across enterprise, cloud, and SaaS applications. We help organizations uphold data integrity, deliver data availability that withstands adverse conditions, continuously monitor data risks and threats, and restore businesses with their data when infrastructure is attacked.