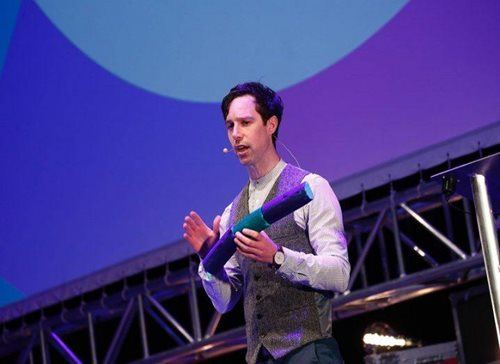 Now in its fourth iteration, Researchfest is Inspirefest's research pitch competition, and it sees some of Ireland's best science communicators talk their way to victory on stage in front of a live audience.
With plenty of competition, the esteemed judges of the panel had to choose out of eight talented researchers who could best sum up their work in an eloquent and impactful way in just three minutes.
Finally, after much thought, the winner of this year's competition was named as Eoin Murphy, a full-time PhD science student at the Centre for Chromosome Biology at NUI Galway.
From LA to Venezuela
His presentation, entitled 'The Ultimate Puzzle', began by taking us all the way back to 1968 in the city of Los Angeles when a woman crossing a busy street suddenly found herself experiencing uncontrollable shaking and a loss of balance, perceived by a local policeman as drunkenness.
As it turned out, that woman had early onset Huntington's disease, an inherited neurodegenerative condition that causes serious cognitive and movement defects in the human brain. Usually starting in middle age, it can quickly see people lose control of their mental capacity and body movement.
As Murphy explained, this woman's hidden condition would set off a series of events that would lead to her husband forming a foundation to help people with the disease, and her daughter, Nancy Wexler, spending the next 25 years searching for a cause.
After obtaining samples of DNA from a small fishing village in Venezuela, where the number of cases of the disease was quite high, she and other researchers were able to identify the chromosome causing the problem.
All these years later, Murphy and his fellow researchers are now using the latest gene-editing technology, called CRISPR, to try and 'cut' out the problematic element from DNA and prevent its proliferation in the future.
Brilliant prizes
"We now find ourselves in a moment that Nancy Wexler could only have dreamed of," Murphy said.
Commenting after his victory, Murphy said to Siliconrepublic.com: "I'm delighted and surprised because the quality was really high among the speakers."
This was not his first science pitch rodeo, however – earlier this year, he came third at the FameLab Ireland competition, which he said helped him develop his storytelling skills for this event.
For his winning pitch, Murphy got to take his keen storytelling to the main stage at Inspirefest and will now get some extra communication training from SNP Communications and a starring role in a feature on Siliconrepublic.com.
Not only that, but BT Ireland's general manager for business sales, Gillian Chamberlain, presented Murphy with a fabulous trip for two to London, including flights and hotel, complete with a visit to Bletchley Park, the home of the WWII codebreakers.
Colm Gorey
This article originally appeared on www.siliconrepublic.com and can be found at:
https://www.siliconrepublic.com/innovation/researchfest-2018-crispr-huntingtons-disease