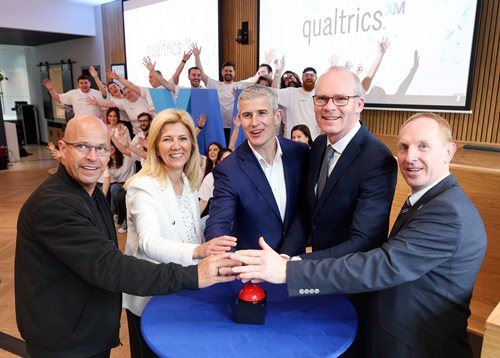 DUBLIN, May 31, 2023
–
Qualtrics
(Nasdaq: XM), the leader and creator of the experience management category, today announced it has opened its new Europe, Middle East and Africa (EMEA) headquarters in Dublin City Centre, which will feature an XM Innovation Centre focused on AI.
The EMEA headquarters, at Costello House on Clarendon Row in the heart of the city, was
officially opened today by Brad Anderson, President of Products and Engineering at Qualtrics, and Simon Coveney, Minister for Enterprise, Trade and Employment.
The opening of the state-of-the-art building marks 10 years of investment and expansion in
Ireland by Qualtrics, since the US-headquartered company set up a Dublin base as its first office outside of the United States in 2013. Costello House is Qualtrics largest office in EMEA and the base for the company to target further international expansion.
The Dublin office will also house a planned R&D XM Innovation Centre. Building on the strong engineering presence in Dublin, the new centre will serve as a centre of excellence dedicated to creating innovations leveraging AI, machine learning and natural language processing amongst other technologies. The facility will bring together industry experts to shape the future of experience management.
Costello House has capacity for over 500 employees and an immersive Executive Briefing Centre for customers from across EMEA to reimagine experience management for their business. The space boasts impressive features including an employee enablement hub, gym, wellness studio, and pub. Qualtrics currently employs almost 400 people in Dublin and is continuing to hire locally.
Minister for Enterprise, Trade and Employment Simon Coveney T.D. said:
"I warmly welcome this announcement from Qualtrics as they open their New EMEA HQ in Dublin city centre. Qualtrics is a world renowned leader in Experience Management and this highlights that we are attracting the best companies to our shores. With the new office capacity allowing for growth from 400 - 500 staff, this is also hugely positive and welcome news. Congratulations to all the team at Qualtrics on this expansion and indeed their 10 year milestone in Ireland."
"The depth of talent we are able to access in Ireland makes it a perfect place for our EMEA headquarters,"
said Brad Anderson, President of Products and Engineering at Qualtrics.
"As we continue to build across EMEA, the XM Innovation Centre will be central to our ability to drive innovation with unrivalled uses of new technologies to deliver exceptional experiences to organisations worldwide."
Michael Lohan, CEO of IDA Ireland, said:
''Qualtrics' new EMEA HQ in Dublin and plans for an innovation centre is a testament to the strength of the Irish talent pool. The company's growth trajectory since it established in Ireland over 10 years ago signals confidence in the conditions that Ireland offers large scale companies. I wish Qualtrics continued success over the coming years.''