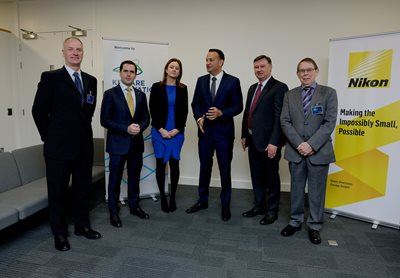 Monday, April 11th 2022. Leixlip, Co. Kildare: Tánaiste and Minister for Enterprise, Trade and Employment Leo Varadkar today announced plans by Nikon Precision Europe (NPE) to expand its operations with the opening of its new offices on Kildare Innovation Campus. The offices will form part of its worldwide support network.
This expansion was supported by the Irish Government through IDA Ireland.
NPE has been in Ireland since the early 1990's with local staff supporting a number of multinational semiconductor customers. Having started with a handful of local employees, the company has steadily grown in line with customers' needs. It now has close to 140 employees, and this expansion will continue over the coming months with an additional 40 positions available across a range of skills.
Nikon Precision Europe (NPE) GmbH is the organisation supporting Nikon's Lithography systems for its European customers. It provides service to customers during the lifecycle of the Lithography system. Whether it is during installation, wafer production ramp-up or in a sustaining production environment, their team provide expert analysis and solutions to enable optimal usage around-the-clock of the capital equipment in the customer factory.
Tanaiste Leo Varadkar said: "This expansion, which will create 40 new jobs in Nikon's new offices in the newly launched Kildare Innovation Campus, is a great boost for Kildare and the surrounding area. Congratulations to the team, I'm sure it has taken a huge amount of work to make these plans a reality. The very best of luck with it."
NPE President Harumi Sawada said: "Our continued investment in Ireland underlines the importance Nikon places on the support of our customers locally as well as creating a technical hub that can support our worldwide semiconductor operations."
IDA Ireland CEO Martin Shanahan said: "Nikon Precision Europe has been in Ireland for close to 30 years now, supporting a number of multinational semiconductor customers. The company has grown from a handful of local employees as the business developed in line with customer needs to close to 140 employees at present in its international support hub. These new offices in Kildare Innovation Campus will add a further 40 roles; a very welcome development demonstrating the company's ongoing commitment to its Irish operations. I wish them continued success."
To learn more about exciting careers at this moment of unprecedented rapid and ongoing growth in the semiconductor industry, go to NPE's application portal here https://nikon-precision-hr.secure.force.com/recruit/fRecruit__ApplyJobList