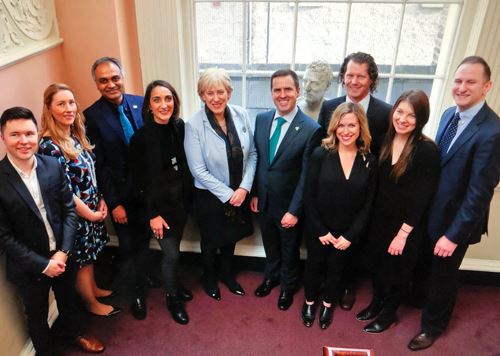 Dublin, 7th March 2018 – Minister for Business, Enterprise and Innovation Heather Humphreys TD today announced the creation of 231 jobs in Dublin across eight high growth companies from Europe and the US.

The investments are supported by the Irish Government through IDA Ireland.

Speaking at today's announcement Minister Heather Humphreys TD said she warmly welcomed these new companies. "Ireland has indeed been the beneficiary of significant FDI from some of the biggest companies in the world. We intend to be just as successful in securing investment from companies in new and emerging sectors. All of the companies here today, who are at the forefront of their technologies, have been identified as having high growth potential. It is terrific news that they have decided to locate in Ireland. I look forward to their future expansion here and wish them all the best."
Welcoming the announcement, Martin Shanahan CEO, IDA Ireland said "IDA Ireland's high growth businesses represent an increasingly important part of Ireland's high tech business ecosystem. Ireland remains a compelling location for early stage start-up companies to service a growing customer base in Europe."

The new jobs will be spread across the technology and business service sectors with a range of activities such as Sales and Marketing, Software Services and Tech Support.

The companies creating the new jobs are:

• (50) Affirma Consulting, the award-winning global technology consultancy that offers a variety of services to clients across industries and countries, today announced the opening of its Dublin office. As part of their plan for growth into European markets, Affirma will make 50 jobs available at its Dublin office by 2020. The Dublin office will offer the full services of Affirma's business units. Dublin's widely available talent has helped fuel Affirma's Irish growth.

• (50) SentryOne is a technology company that provides software solutions to monitor, diagnose and optimize server performance across physical, virtual and cloud environments on the Microsoft data platform. The Company is opening SentryOne EMEA, its first international office, with plans for 50 employees in sales, engineering, R&D, product management and customer support by the end of 2021.

• (36) Sojern the global demand engine for reaching, today announced the continued expansion of its European headquarters in Dublin for its RevDirectTM offering, with plans to more than double in size by 2020 growing to a team of 56 with the creation of 36 new jobs.

• (20) ADvendio, the cloud based advertising sales and booking software solution, announced today that it has established its Sales and Marketing hub in Dublin, creating 20 jobs across sales, marketing and professional services over the course of 3 years. With the opening of this new hub in Dublin, ADvendio is looking to further grow an offering already used by some of the best known publishers and media companies in more than 25 countries.

• (20) Enfusion, a leading provider of innovative, cloud-based investment management software, outsourced fund services and a data warehouse, is adding 20 more professionals to its Dublin team by 2020. Headquartered in Chicago, with offices in New York, London, Dublin and Hong Kong. Enfusion's Dublin office serves as the EMEA hub for the firm's Outsourced Fund Services and Product Consulting divisions. Roles will include Fund Accounting and Hedge Fund Operations.

• (20) Krypt Inc. today announced the expansion of its international operations by establishing its European headquarters in Dublin. The leading SAP consulting partner for Global Trade and Supply Chain solutions will hire 20 people for operations, sales, and marketing roles as well as SAP technical and functional consultants to support its EMEA business.

• (20) Lifesize, a global innovator of video conferencing technology, announced a new centralised business development and customer acquisition base in Dublin. Lifesize expects to employ up to 20 people over three years with jobs focusing on multilingual (German, French, Spanish, Italian, Polish, Swedish and Portuguese) sales operations, business development and customer success positions. The roles will include a range of skill sets, all of which will require a qualification in a relevant technology discipline. Recruitment is already underway.

• (15) Vivino, the world's most downloaded wine app and largest wine marketplace which began operations in Ireland in early 2017 currently employs 12 and will add 15 jobs in 2018. Vivino's team in Ireland work across its customer experience, sales and operations verticals.

Notes to Editors
In recent years, IDA Ireland as part of its strategy has focused more on early stage fast growth companies. Through this strategy a number of prestigious project wins were achieved such as Indeed.com, Riot Games and Etsy. Significant marquee names have become reference sites for Ireland including Zendesk, Squarespace, MongoDB, Qualtrics, New Relic and more.