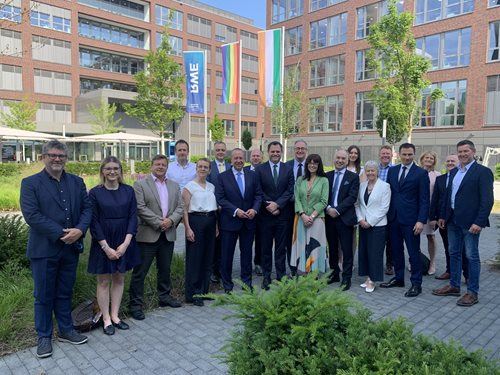 Enterprise Ireland and IDA Ireland Trade Mission will strengthen relationships with key German and French partners.
The Eurozone is now the second largest export market for Enterprise Ireland clients, with exports up 28% to €7.92bn in 2022.
Terra NutriTECH announce €15m deals with German and French feed distributors.
Meetings with SAP, RWE, Merck KGaA, Schwabe, Henkel, Essilor Luxottica (French-Italian company) and INIT are on the agenda.
6 Enterprise Ireland backed SportsTech startups take part in Viva Technology's Startup Challenge in Paris.
Monday 12th June 2023
- Minister for Enterprise, Trade and Employment, Simon Coveney T.D. and Minister of State for Employment Affairs and Retail Business, Neale Richmond T.D. are today leading a joint Enterprise Ireland and IDA Ireland Trade Mission to Germany and France to boost trade relationships with key IDA client companies and support Enterprise Ireland companies to scale in these key markets.
The four-day trade mission will visit the cities of Essen, Düsseldorf and Frankfurt in Germany and Paris, France as well as attending Viva Tech in Paris, Europe's biggest startup & tech event. 45 Enterprise Ireland client companies will take part in the trade mission across the week.
The trade mission builds on record exports by Enterprise Ireland client companies to the region in 2022, with exports up 28% to €7.92bn in 2022. Representing 25% of total client exports, the Eurozone is now the second largest export market globally for Enterprise Ireland backed companies. Construction, lifesciences, engineering and digital tech are the largest export sectors. 940 Enterprise Ireland companies are actively selling into Germany and France with Enterprise Ireland client companies achieving over €2bn exports for the first time to Germany, with exports up 32% in 2022. Enterprise Ireland client exports to France increased by 27% to €1.61bn exports in 2022.
Germany and France continue to be attractive source markets for FDI into Ireland. Overall, Ireland is home to 100 German and 80 French IDA Ireland client companies employing over 24,000 people in sectors such as Life Sciences, Engineering, International Financial services, Renewable Energy and Technology. Ireland is among the most outward-looking and internationally engaged countries in the world, making it the 7th most popular FDI destination in Europe.
The established partnership across a diverse base of French and German corporates has driven ongoing growth and expansion with investments in research & innovation, sustainability, and future skills development in Ireland. IDA will continue to position Ireland as the number one location from which French and German companies can operate successfully.
Enterprise Ireland client companies scaling in Germany and France will be marking announcements over the course of the Trade Mission.
Terra NutriTECH
, a global leader in precision livestock nutrition solutions, will sign significant contracts worth €15m with German company ASL GmbH, a distributor of feed additives and agricultural technologies and French Pature Vision.
Civic Integrated Solutions
will sign a Memorandum of Understanding with s.m.s, smart microwave sensors GmbH.
As part of the Trade Mission, six Irish Enterprise Ireland backed companies will present their solutions at a Viva Technology pitching contest in Paris. The competition is organised around the biggest topics in tech and provides innovators with a chance to pitch their unique sports tech solution to leading market experts. The six Enterprise Ireland backed companies taking part in the Sports Tech category include Access Earth Limited, Head Diagnostics, MoveAhead, Output Sports, RugbySmarts and Volograms.
Commenting on the Trade Mission,
Minister for Trade Enterprise, Trade and Employment, Simon Coveney T.D. said
"On the back of Enterprise Ireland's Eurozone strategy, we have seen impressive gains for Irish companies in the Eurozone, with Enterprise Ireland client exports up 28% to €7.92bn in 2022. Germany and France are the largest exports markets in the Eurozone for Enterprise Ireland client companies with exports of over €2bn achieved in Germany in 2022 and exports of €1.61bn achieved in France. However, there are still untapped opportunities for both FDI and Irish exports across the Eurozone, and we will focus on further accelerating these opportunities for the Irish economy."
IDA Ireland Executive Director, Mary Buckley added:
"The Trade Mission represents an opportunity to reinforce Ireland's global position as a stable location for investment and expansion despite economic headwinds and an ever-changing global environment for investment flows.
"The German and French markets continue to be the two largest source countries for FDI investment into Ireland from the EU. Our mission is to advance Ireland's FDI and trade value proposition in the German and French markets - the 4th and 7th largest economies in the world – to solidify Ireland's reputation as a highly attractive FDI investment destination.
As part of this investment mission, we will be meeting with some of the largest and most dynamic companies in technology, global business services, engineering and life sciences. These companies continue to seek stable, pro-business locations for their businesses. Competition for foreign direct investment has never been as intense and trade missions like this help IDA Ireland to increase awareness of Ireland's offering as an attractive place to invest and to grow. This mission to Germany & France is also a welcome opportunity to deepen relationships with the parent companies of our clients."
Speaking about the trade mission,
Jenny Melia, Executive Director, Enterprise Ireland said:
"Enterprise Ireland's Eurozone Strategy aims to inspire and support more companies to enter and scale in Eurozone markets. Since the strategy was launched in 2016, exports to the Eurozone have increased by 88% from €4.2bn in 2016 to €7.9bn in 2022. We want to continue to build on this strong momentum and for Irish companies to fully exploit the diversification opportunities that result from trading within the EU single market. 45Enterprise Ireland client companies will participate in the mission, which provides them with an important opportunity to engage with their partners in the market and accelerate their business growth.
We also want to wish every success to six of our clients pitching in the Viva Technology sports tech startup challenge. This is fantastic opportunity for the companies to be showcased on this influential European stage to meet potential partners and investors and pitch their solutions to major stakeholders committed to the positive transformation of sport."
Key highlights of the Germany and France Trade Mission include:
Presentations to Minister from RWE and Düsseldorf Fire Brigade
EI Client Roundtable – Sustainable Business: An Irish & German Perspective
Business Lunch "Sustainable solutions for water management"
Enterprise Ireland Life Sciences Business Dinner, Paris
Meeting with IDA clients
Minister meeting French captains of industry and public sector representatives at VivaTech
The SporstTech pitching competition at Viva Technology Event, Paris