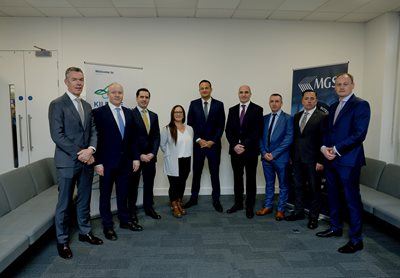 MGS's ambitious expansion plans for its Leixlip plant in Kildare were announced today by Tanaiste and Minister for Enterprise, Trade and Employment, Leo Varadkar. MGS's plans are being driven by the company's continued success and growth within the healthcare sector. Focusing on the manufacture of high precision medical device components has expedited the company's growth over the past number of years.
The €7m investment will see a 20,000ft extension to the plant located on the Kildare Innovation Campus, housing ISO class 8 cleanrooms, new offices, injection moulding machines, precision measurement laboratory and warehousing space.
Established in Wisconsin, USA in 1982 initially as a small mould making shop, MGS now spans 11 facilities around the world, employs more than 1200 people globally and completed the acquisition of Formteknik in Europe in early 2021. The Ireland plant, established in 2011, has continued to go from strength to strength over the last decade, employing 120 locally with plans to double this footprint to meet the new facility's needs, further investing in the local community and infrastructure.
The Tanaiste said: "Congratulations to the entire team at MGS Mfg. Group, Limited. on this further expansion of the company's Irish operations, which will create 100 new jobs. This investment is a testament to the existing staff and a real vote of confidence in the local community. I wish the team all the very best with their ambitious plans."
Speaking at MGS's Leixlip facility, CEO Paul Manley said: ''As a company hitting our 40 year milestone this year, we've had an exceptional journey. MGS has adapted and grown exponentially to meet customer demand and expectations, and today has eleven strategically placed specialised manufacturing facilities around the world. With every step, we challenge, improve and diversify. We stay true to our values of teamwork, integrity, passion and safety – the cornerstones of our business and delivery mechanism to our clients. The Ireland plant has been on a pathway to success growing steadily since it opened in 2011. Our success in Ireland is due to the dedication and hard work of the best people in plastics, meaning today we're able to announce a further jobs boost, which we're very proud of. We look forward to further development within the healthcare sector, supporting both existing clients and potential new projects as the business continues to grow and harness our competitive advantage.''
IDA Ireland CEO Martin Shanahan said: "MGS Mfg. Group Limited. has grown and evolved its operations from the manufacture of printer cartridges for HP to injection moulding with 120 people currently employed. This announcement of a €7M investment in new cleanrooms, offices and equipment here on Kildare Innovation Campus, which will create a further 100 jobs, marks a significant milestone in their growth in Ireland. The benefit of this company's presence in Kildare to the local economy and in terms of employment, is considerable. I wish them every success with their operations in this new location."
MGS Ireland Site Lead Michael Finneran said: ''When we set up back in 2011, we had ambitions to grow the site into the future. Like every business, we were eager to establish ourselves and firmly make our mark in the sector. We started out supporting HP on site in the manufacturing of ink jet cartridges and as the business grew, we diversified into medical devices which is now the predominant sector we focus on. We're extremely excited for this next phase of growth, to be able to bring more jobs to the sector and in so doing, support the local economy and infrastructure as well. Our journey doesn't stop here, this is just one of what we hope to be the many stepping stones in our story of growth to come over the next decade and beyond.''
The investment brings with it a number of new roles - multiple opportunities for professional growth across all business areas To explore opportunities, visit https://mgs-mfg-group-ireland-ltd.hirehive.com
For more information, visit Tooling – Molding – Automation Technology | MGS (mgsmfg.com)