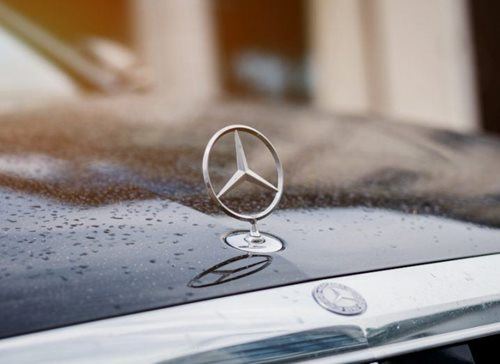 Luxury car company Mercedes-Benz is planning to add more autonomous technology into its next generation of vehicles, as part of a partnership expansion with Luminar.
The two companies have been in collaboration for two years and announced a
partnership in January 2022
to put Luminar's sensor tech into Mercedes high-end vehicles.
Luminar uses lidar, which are laser sensors that use near-infrared light to detect the shapes of objects. Sensors like this are a key component for self-driving vehicles, allowing them to 'see' objects on the road without the need for GPS or a network connection.
As part of the new "multibillion-dollar deal", Luminar's next generation of lidar sensors will be incorporated across a broad range of Mercedes production vehicle lines by "mid-decade".
Self-driving company Luminar said these sensors will help Mercedes create a new automated driving system that aims to operate at higher speed on highways, along with an enhanced driver assistance systems for urban environments.
"We are now set to enable the broadest scale deployment of this technology in the industry,"
said Luminar CEO Austin Russell.
"It's been an incredible sprint so far, and we are fully committed to making this happen – together with Mercedes-Benz."
Luminar said its latest lidar sensors – called Iris – entered its first series of production last October. The self-driving company said it also successfully completed the initial phase of its Mercedes-Benz programme.
Mercedes-Benz CTO in development and procurement, Markus Schäfer, said a "
level three system
" was successfully added to its top-line models. The next step is to add "advanced automated driving features in a broader scale".
"I am convinced that Luminar is a great partner to help realize our vision and roadmap for automated and accident-free driving," Schäfer said.
Partnership with Google
Meanwhile, Mercedes has also entered into a long-term partnership with Google to enhance the geospatial data and navigation capabilities within its vehicles.
The vehicle company plans to build its own branded system with in-car data and navigation capabilities, by using the Google Maps platform.
"Google has been a leader in maps and navigation for many years,"
said Mercedes-Benz CEO Ola Källenius
. "With our strategic partnership, we are excited to create unique services and to elevate the level of convenience for our customers."
In November, an activist hedge fund urged Google parent company Alphabet to cut back on its 'Other Bets' division, which includes autonomous vehicle company Waymo.
TCI Fund Management said enthusiasm for self-driving cars "has collapsed" and noted that Ford and Volkswagen recently pulled the plug on their self-driving car ventures.
Leigh Mc Gowran
This article originally appeared on
www.siliconrepublic.com
and can be found at:
https://www.siliconrepublic.com/machines/mercedes-luminar-autotech-self-driving-autonomous