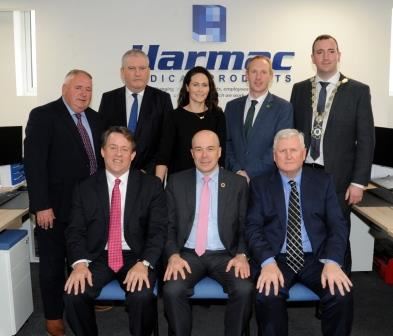 Company has grown its workforce to 300

October 4th 2018. Castlerea, Co. Roscommon. Harmac Medical Products Inc., a leader in the international contract medical device market, today marked its 20th anniversary in Castlerea with a special celebration for staff and guests.

Harmac Medical Products Ltd. was established in Ireland in 1998 to meet the service needs of its international client base. The facility strategically positions Harmac as a world-class medical device manufacturer by providing a direct presence in Europe.

The company is now a significant supplier to European medical technology companies, the Irish operations of overseas medical technology companies, and a key partner for a number of indigenous Irish start-up companies.

Functions carried out at the Castlerea facility include product design and development, prototyping, automation, custom assembly operations, cleanroom injection moulding, packaging, product re-engineering and R&D functions.

Harmac recently completed construction of a 15,000-square-foot building and acquired an additional parcel of adjoining land to assist with its future growth plans. The extension has given the company the opportunity to expand and renovate its office area, creating a bright, spacious, open-plan office space. Harmac currently employs 300 people in Castlerea, making it one of the largest employers in the region.

At today's celebration, John F. Somers, President and CEO, commended Mick McEnroe, Managing Director of the Irish Operation, and his team for their efforts, saying: "Our people and their commitment to world-class results is what makes us stand apart. That we have been able to grow and develop to the extent we have here in Castlerea, providing customers with leading-edge, innovative engineering, combined with reliable manufacturing and supply-chain solutions, is a testament to their dedication."
Minister Denis Naughten, who attended the event, said: "Harmac is a great success story, a company that has contributed substantially to the local economy by providing consistent employment here for two decades now. With the addition of the new building and the acquisition of adjoining land, the company is positioning itself for future growth, and Castlerea and its environs will benefit from that. I wish Mick and his team continued success here."

IDA CEO Martin Shanahan said "Harmac is a great example of how an international company can successfully operate, develop and scale its operations in a regional location. The benefit of the company's longevity in the region is significant. IDA Ireland's relationship with Harmac dates back to 1998 when the company opened its manufacturing facility in Castlerea, and that relationship has continued through the years. You can be assured of our continued support as you work toward future milestones."

Managing Director McEnroe added "It's been a wonderful 20 years for Harmac Medical here in Castlerea. This is a milestone that we felt deserved to be celebrated. But while we look back, we are looking to the future too, with construction completed on our new building and the extra land we've acquired. We are very proud of what we have achieved here in Castlerea, and we look forward to being back here in 2028 to celebrate our 30th anniversary."

About the company
Harmac is a full-service contract manufacturer of single-use medical devices with facilities in the U.S., Ireland and Mexico. Founded in 1981, Harmac provides innovative engineering services and world-class manufacturing solutions for customers around the world, including many Fortune 500 med-tech companies.