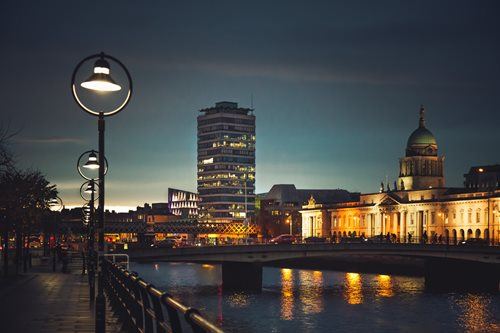 Gate One, an international challenger management consultancy, today announced it is launching an Irish office as part of its global expansion. The UK-headquartered company also recently opened in France and the US to serve its growing customer base.

Gate One, which is supported by the Irish Government through IDA Ireland, is a leading digital and business transformation consultancy, and part of the Havas Group, one of the world's largest global communications organisations. It will open its office in the Havas village on Cuffe Street, Dublin 2, later this month. Cork native, Anthony Gaffney, has been appointed the country lead for Ireland.

Gate One is planning on rapid growth in Ireland, with 50 hires projected within the next 5 years. Recruitment is already underway for experienced management consultants and senior industry specialists.

Tánaiste and Minister for Enterprise, Trade and Employment, Leo Varadkar, said: "The Government is working around the clock to deliver jobs and growth in Ireland. The launch of this exciting new challenger consultancy in Ireland, with a differentiated offering, is a testament to the resilience of the Irish economy, to the strength of our talent pool and to the attractiveness of the business environment. I would like to personally welcome Gate One and I look forward to witnessing their expansion over the coming months and years."
The company also has an established incubator model programme for staff. The programme supports Gate One consultants to become founder-investors in a growing portfolio of successful start-ups, developing them into entrepreneurs and keen problem-solvers, familiar with business challenges, and able to apply the lessons they've learnt to help Gate One clients meet their goals.
Anthony Gaffney, country lead for Gate One Ireland, said: "Gate One is delighted to establish our presence in Ireland. As a key economic and digital hub, Ireland is a natural choice for our international expansion and, as part of the Havas group, we believe we offer clients a differentiated digital and business consultancy proposition.
The recent change in operating environments for consultancy companies, brought on by Covid-19, allows Gate One to grow domestically, as well as service global clients from Ireland. It also provides a unique opportunity for highly skilled talent in Ireland to work with Irish and international clients all from Gate One's Dublin base, which is really exciting for our growth.
We are now actively recruiting entrepreneurial consultants who may be returning home to Ireland from abroad or looking for a change from the norm in Ireland. Our commitment is a stretching and rewarding career experience in an environment where our consultants can do their best work.
We would like to thank IDA Ireland for the support they have provided in recent months in helping us to shape this."
Gate One's target industries for Ireland include the well-established cluster of indigenous and global life sciences companies, retail, consumer goods, financial services, and public sector.
Martin Shanahan, CEO, IDA Ireland, said: "Ireland's thriving multinational sector, as well as market demand internationally for digital and business transformation consultancy services, the availability of technology talent, and ability to recruit skilled consultants from the EU talent pool, makes Ireland a very attractive location for international professional services companies. On behalf of IDA Ireland, I'd like to welcome Gate One to Ireland and I wish them every success with the establishment of its new office."