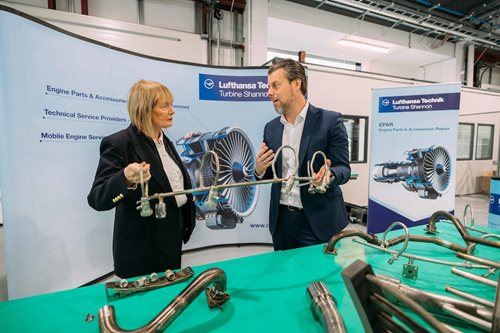 New facility and more new jobs for Shannon
Company expands aircraft engine repair portfolio in Ireland
Lufthansa Technik Turbine Shannon (LTTS) has announced the further expansion of its business in Ireland with the opening of a new 2,000 M2 facility and the creation of 25 new jobs in Shannon, with more to be announced later in the year.
LTTS, a subsidiary of Germany's Lufthansa Technik AG, is experiencing a significant increase in market demand for its worldwide maintenance, repair and overhaul (MRO) services for aircraft engines and components, particularly following the recovery of the aviation sector after the Covid-19 pandemic.
LTTS has been operating in Ireland since 1992 and employs more than 300 people in Shannon, Kildare and Dublin. The current expansion plans mean that the company urgently needs 25 highly skilled aircraft mechanics who will be based at its new facility in the mid-west, working on state-of-the-art aviation technology and equipment. It is expected that the new facility, commissioned by The Shannon Airport Group, will be fully operational by March 2023.
The project is supported by the Irish Government through IDA Ireland and Taoiseach Leo Varadkar TD said: "This is fantastic news for Lufthansa Technik Turbine Shannon who are celebrating 30 years in operation in Shannon. The new state-of-the-art facility will create highly skilled jobs in the Shannon Aviation Services Cluster. Congratulations to the whole Lufthansa Technik team on this milestone achievement. I wish you the very best with this new chapter."
The announcement follows the recent launch of Lufthansa Technik's Mobile Engine Services facility in Kildare. "Today we are marking another significant milestone for Lufthansa Technik in the Irish market with the addition of a manufacturing operation in Shannon. This is a really important development for our customers and complements our existing services portfolio in MRO," said CEO, Michael Malewski.
"The aviation industry was severely impacted by the pandemic. However, the recovery has been rapid and the demand for aircraft maintenance is greater than ever. We are meeting this strong demand by growing our footprint, our capacity and our workforce in Ireland. We already doubled our productive headcount in Shannon over the past 18 months and now need even more people to join our team."
Eileen Sharpe, Global Head of Engineering & Green Economy and Growth Markets, IDA Ireland, said: "Today's announcement that LTTS is expanding operations in Shannon where it has had a presence for the past three decades is very good news. This expansion will increase capacity at the facility and lead to the creation of highly skilled roles. IDA Ireland remains committed to winning jobs and invetment in regional locations. I wish LTTS every success with this investment."
The latest development in Shannon means that not only is LTTS expanding its footprint in Ireland, but it will also be able to offer new products for turbine engines that power Boeing 737 and Airbus A320 aircraft (specifically, CFM56, V2500, LEAP and GTF turbine engines).
For more information:
www.ltts.ie