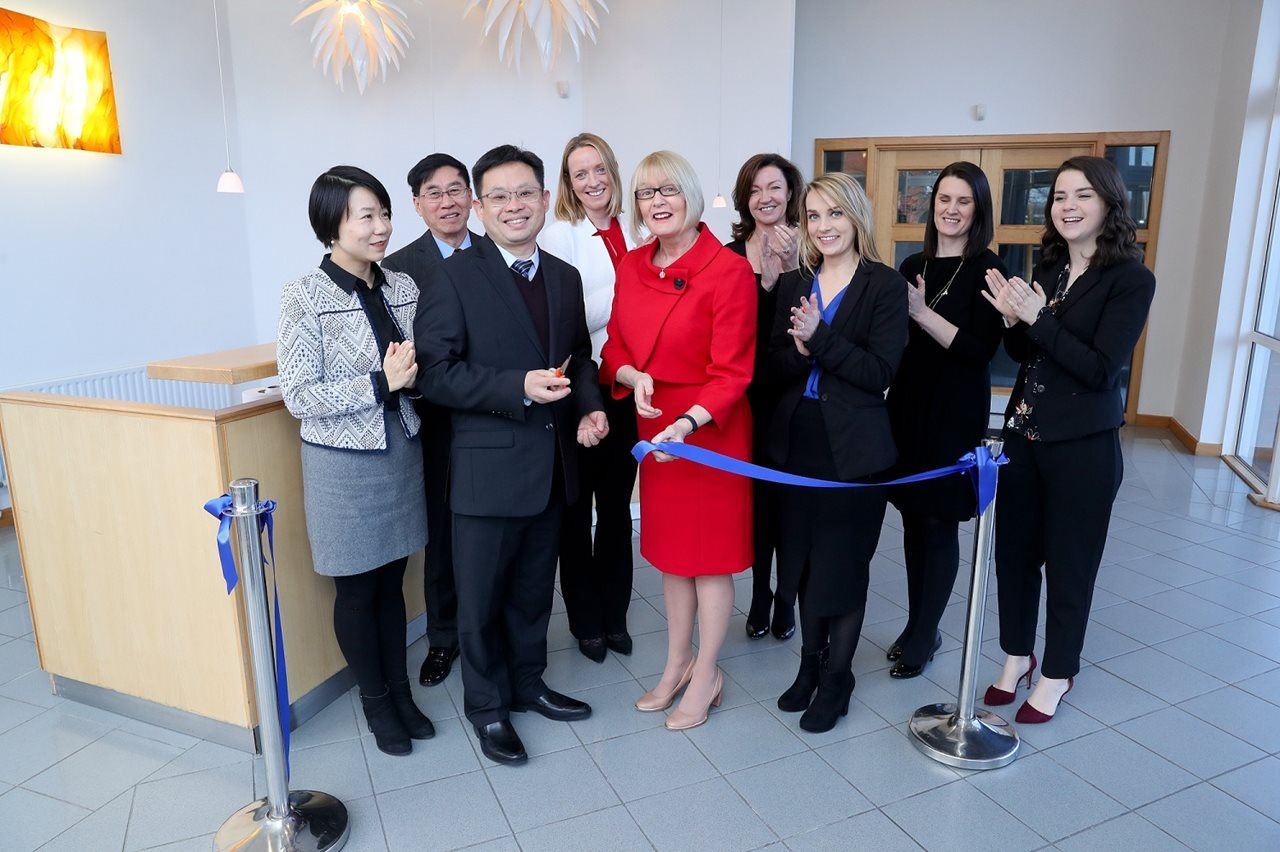 Sandyford, Dublin, March 7, 2019 - Legend Biotech Ireland, Ltd. announces the official opening of the company's European headquarters (HQ) at 10A Ballymoss Road, Sandyford Business Park, Dublin 18, Ireland. Legend Biotech established their European HQ in Dublin at the end of 2017 and has been focusing primarily on research and development (R & D) and business activities.
Dr. Frank Fan (Chief Scientific Officer), Dr. Li Zhu (Chief Strategy Officer) and Ms Sherry Sun (Finance Director) all attended this memorable event in Dublin. Legend Biotech Ireland, Ltd. is supported by the Irish Government through the Industrial Development Authority of Ireland (IDA Ireland).

"Legend Biotech is a global, integrated biopharmaceutical company. Europe is an important market for Legend Biotech and we are committed to having a holistic presence (discovery, development, commercialization) and to serve patients in Europe," said Dr. Yuan Xu, CEO of Legend Biotech. "The R & D institute in Ireland is just a first step to fulfilling this mission. Establishing our European HQ in Dublin, Ireland, is a logical decision for Legend Biotech given its access to experienced talent, accessibility and international recognition for supporting the pharmaceutical/biotechnology industry. We look forward to growing our R & D and commercial presence in Ireland in the future," stated Dr. Xu.
Legend Biotech specializes in the discovery, development and commercialization of chimeric antigen receptor T (CAR-T) cell therapies, and other cell therapy products, focused on the treatment of cancer, autoimmune and infectious diseases. Legend Biotech is the first CAR-T cell company in Ireland and a leader in this revolutionizing field. Legend Biotech is located in the heart of Dublin and represents the company's first European site with large space for R & D as well as business activities. The European hub is 770 square meters in size and spans 2 floors.
Commenting on the announcement Eileen Sharpe, Global Head of Growth Markets, Europe, Emerging Business, New Forms of Investment at IDA Ireland said "We welcome Legend Biotech's decision to locate its European Research and Development and Operations center in Dublin. As a global company based in the Life Sciences sector its decision to embed a research and development team in Ireland looking into the areas of immuno-oncology is a huge vote of confidence in Ireland's ability to provide the company with the high value, highly specialized, scientific talent they will require to continue their globally recognized innovative work in CAR-T cell therapy. We wish Dr. Yuan Xu, CEO of Legend Biotech and all the team every success in Ireland."
About Legend Biotech
Legend Biotech is a global biopharmaceutical company located in Ireland, USA, and China. Legend is a subsidiary of GenScript Biotech Corporation (HKEx: 1548), which operates in USA, Hong Kong, mainland China and Ireland. Learn more at www.LegendBiotech.com