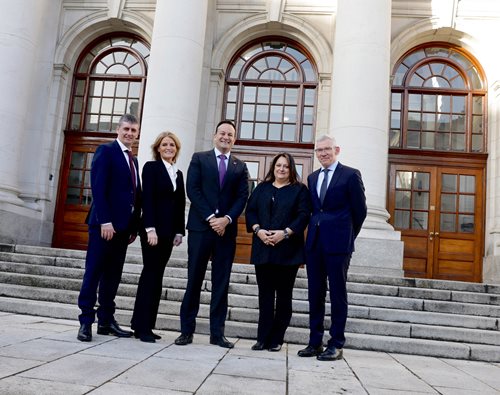 The new Centre of Excellence for Immunoassay Instrument R&D follows a multi-million-euro investment from Siemens Healthineers, with support from IDA Ireland.
The Centre will focus on uncovering breakthrough innovations in laboratory diagnostic equipment, used to help diagnose disease in laboratories and hospitals across the globe.
Local economy set to benefit from 100 new jobs with 65 high-level engineering roles.
Siemens Healthineers has announced the launch of a Centre of Excellence for Immunoassay Instrument Research and Development (R&D) in Swords, Ireland. The new Centre will focus on unlocking breakthrough innovations in laboratory instruments used to detect infectious diseases, cancer and blood disorders. The existing manufacturing and engineering site, which supplies medical diagnostic equipment globally, will receive a multi-million-euro investment from Siemens Healthineers. This project is supported by the Irish Government through IDA Ireland. The investment will create additional jobs and enable clinicians to optimise patient care by bringing new levels of precision, efficiency and reliability to the diagnostic laboratories that serve them.
Taoiseach Leo Varadkar TD states: "Congratulations to Siemens Healthineers on the launch of their Centre of Excellence for Immunoassay Instrument Research and Development. This is a significant expansion with the creation of 100 new jobs, the majority of which will be highly skilled, providing great opportunities for engineers. This new Centre is testament to Ireland's strong reputation for R&D. Exciting new technology like that which will be developed in Swords, can make a real difference to people's lives, to patient outcomes and to healthcare systems globally. I wish the team at Siemens Healthineers the very best for many successful years and continued growth in Ireland."
This significant investment by Siemens Healthineers will span multiple years and create 100 new jobs with 65 of those to be high-level engineering roles specialising in artificial intelligence, machine learning, software engineering, systems engineering and data science. This will more than double the existing engineering team and transform the site into an innovation hub, growing knowledge, providing new training opportunities and developing a pool of expertise in immunoassay technology.
The Centre will push the boundaries of science and engineering. Improvements to existing diagnostic techniques will enhance disease detection capabilities with the goal of delivering faster, higher precision results with improved patient insights. This will help to meet the extremely high throughput and complex needs of hospitals and laboratories in Ireland and globally.
"The investment at Swords will build on our existing expertise in healthcare manufacturing, adding a critical research and development focus," states Dr Dennis Gilbert, Head of R&D for Siemens Healthineers Diagnostics. "Partnering with IDA has enabled us to move forward in ways that would not have otherwise been feasible and will allow us to pioneer breakthroughs in healthcare, helping hospitals and laboratories across the globe to diagnose disease more effectively and efficiently."
"This is an exciting opportunity for us to create an entrepreneurial research environment, while leveraging the strength and breadth of all that Siemens Healthineers has to offer," states Fred O'Brien, VP of Manufacturing and Managing Director of Swords for Siemens Healthineers. "It highlights the calibre of the existing team and with this investment we will create a hub of skilled and experienced engineers and researchers, broadening the scope of careers in the local area."
''Today's investment announcement by Siemens Healthineers is terrific news and demonstrates the company's continued commitment to Ireland, where it's had a presence in Dublin for 57 years," states Mary Buckley, Interim CEO of IDA Ireland. "We welcome the company's plans to create 100 new jobs across research and development and we wish continued success for Siemens Healthineers."
Siemens Healthineers has been active in Swords supplying medical diagnostic equipment to hospitals and laboratories since 1966. The site manufactures haematology and immunoassay analysers and supports the continuous innovation of current and new products and the development of laboratory automation software, exported to more than 50 countries across all continents. Career opportunities available at Swords, Ireland will be advertised on the Siemens Healthineers recruitment portal.