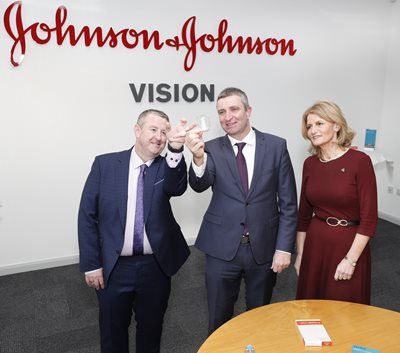 LIMERICK, IRELAND – March 9, 2022 – Johnson & Johnson Vision*, a global leader in eye health and part of Johnson & Johnson MedTech, has today announced a €35 million investment in its facility in Limerick, with the potential to create up to 200 new jobs over the next three years, including roles specific to the construction phase of the project.

Niall Collins TD, Minister of State at the Department of Further and Higher Education, Research, Innovation and Science attended the announcement of the investment in Johnson & Johnson Vision in its Limerick facility. Welcoming the investment, he said: "This investment by Johnson & Johnson Vision in its Limerick plant is significant, and clearly signals their desire to drive, and commit to expanding their advanced manufacturing footprint in Ireland. The creation of 200 new jobs for the region also proves we can deliver a talented and skilled workforce ready to tackle some of the greatest challenges facing society. There is no doubt that the Johnson & Johnson Vision operations in Limerick are world-leading, and we can be proud that the results of that work will help people right across the world."

Our goal at Johnson & Johnson Vision is to bring improved eyesight to people around the world through the research, development, and manufacturing of new medical technologies. The manufacturing site in Limerick is one of our organization's largest manufacturing operations for the contact lens business and plays a fundamental role in supporting the Johnson & Johnson mission to change the trajectory of health around the world.

John Fitzgibbon, Operations Director, Johnson & Johnson Vision in Ireland said: "Nearly 2.2 billion people around the world face impaired vision, and approximately 20% (200 million) people worldwide suffer vision impairment or blindness caused by cataract or uncorrected refractive error. With the growth of our manufacturing operations in Limerick we are committed to changing these statistics, helping to solve a lifetime of eye health needs with our IOLs (intraocular lenses)."

Headquartered in Irvine, California, and Jacksonville, Florida, Johnson & Johnson Vision designs, manufactures and markets ACUVUE®, the world's brand leader in contact lens and TECNIS® IOLs (intraocular lenses) for cataract patients.2

Johnson & Johnson Vision started operating in Limerick in 1996 with 60 employees. It recently celebrated its 25th anniversary in Limerick. In that time, the company has gone from strength to strength and is now one of the largest contact lens manufacturing facilities in the world, with a workforce of 1,600 people. The company has a strong focus on career progression through continuous education. From certificate to doctorate level programs, Johnson & Johnson Vision has supported 300+ employees in developing skills in new technologies since 2016.

Gaspar Zuniga, Vice President, Supply Chain for Johnson & Johnson Vision commented "We look forward to supporting more patients and eye care professionals with the products they need where they need them. This investment allows for the continued growth of our facility in Ireland. Our 25 years' experience working in Ireland is remarkable and the expansion of our site is proof of our employees' commitment to help more patients around the globe."

Recruitment is currently underway across a range of roles including in Operations (Supervisors & Product Assemblers), Engineering (Automation & Process), Quality (Engineering, Validation; Chemistry and Micro Labs). To learn more about joining the Johnson & Johnson Vision team in Limerick visit www.careers.jnj.com.
Mary Buckley, Executive Director, IDA Ireland said: "Today's announcement by Johnson & Johnson Vison Ireland in Limerick, is very good news for the Mid-West region and follows another significant investment at the company's CERENOVUS campus in Galway last month. The availability of a highly talented and skilled workforce in Ireland has enabled Johnson & Johnson's ambitious expansion plans. This announcement demonstrates IDA Ireland's continued commitment to winning Foreign Direct Investment (FDI) for regional locations. I wish the team at Johnson & Johnson Vision Ireland every success."

END