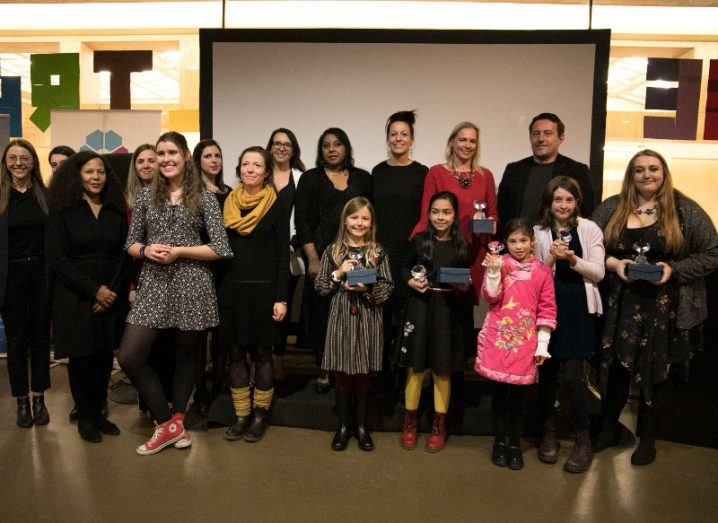 There were three main categories at the event: Digital Woman, Digital Impact Organisation and Digital Girl of the Year. Inspiring young women, and one pioneering start-up, were recognised for their enthusiasm in coding, social inclusion, robotics and technology.
All four Irish girls nominated for their respective categories walked away with awards, making it an impressive night for those passionate about tech and learning new skills.
Digital Girl of the Year showcasing brilliant talent
Zara Ilyas and Ruby Scott Kenny both won in the under-10s category. The two friends are both active CoderDojo members who share a love of learning and participate in a myriad of CoderDojo events.
Aoibheann Mangan emerged victorious as Digital Girl of the Year in the 11-14-year-old category. Mangan is also a member of CoderDojo, and she said she wanted to inspire other girls to give coding a try. "I especially love and encourage girls to use technology."
Mangan has been working hard promoting technology and coding for girls over the last number of years, delivering workshops with CoderDojo in Cloghan's Hill and Robeen.
At only 15 years old, Maeve Galvin can add another prize to her collection as the recipient of the Digital Girl of the Year award in the 15-17-year-old category. Previously, Galvin won her age category in the Tech Week Ireland Scratch Competition for three years running, and is now a mentor teaching younger children Scratch in her local CoderDojo, giving up her free time every weekend and carefully planning lessons.
Teen-Turn recognised for its stellar work
Ireland also claimed the Digital Impact Organisation of the Year category, as the brilliant Teen-Turn initiative was recognised.
Teen-Turn wants to address the low numbers of women within the tech sector by placing secondary-school girls from disadvantaged areas into two-week summer technology internships.
The work of Teen-Turn aims to increase the amount of young women interested in tech as a career path, many of whom might not ever have considered it in the past. Catrina Carrigan was present on the night to collect the award on Teen-Turn's behalf.
Pascale Van Damme, vice-president and managing director of Dell EMC BeLux, received the 2017 European Digital Woman of the Year award.
She acknowledged that one of the biggest challenge that companies such as Dell face is to "find good female talents". To help with this, Van Damme set up different initiatives herself, including an employee research group on diversity (age, gender and culture) and a Speed IT programme, both of which are running at Dell.
Other award-winners on the night included Helena Stapleton and Charlotte Johnson, both from the UK, who impressed with their drive and love of coding.
Ellen Tannam
This article originally appeared on www.siliconrepublic.com and can be found at:
https://www.siliconrepublic.com/innovation/digital-girl-europe-2017-ada