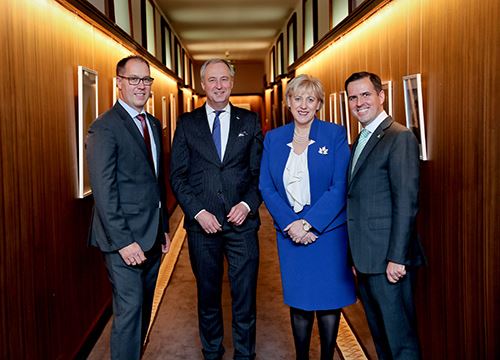 Maynooth, Kildare, 28 November 2018 – INIT, a world-leading supplier of intelligent transport systems, celebrated the opening of its new software development centre in Maynooth, Co. Kildare today. Currently, a team of eight employees is working on the software for INIT's ticketing systems as well as for field devices. Future plans include the provision of up to 20 additional high-skilled jobs in the areas of software development, in C++ and C#. The celebration marks the company's first operations centre outside Germany.

INIT is continuing their global growth by opening a new office in Maynooth, Co. Kildare. As a world-leading supplier of integrated planning, scheduling, telematics and ticketing systems for buses, trams and trains, INIT has already realized several successful projects in Ireland and now consolidated its presence in the region.

This is a unique strategic initiative for INIT, as they plan to create a world-class software development centre in Ireland, the first one outside Germany, in order to tap into Ireland's renowned software ecosystem and service their expanding English-speaking markets.

Minister for Business, Enterprise and Innovation, Heather Humphreys TD said "I was delighted to see INIT choose to locate their first operation outside of Germany in Maynooth. Their plans to create a world-class software development centre in Kildare will result in the creation of an additional 20 highly skilled jobs. The Government has been making strenuous efforts to ensure that we have the right conditions in place to meet the needs of leading technology companies such as INIT, and Ireland is now well-established as a vibrant technology hub. This is a great vote of confidence in what we have to offer and I wish the company every success"

"Ireland with its fast-growing economy is an ideal location for INIT. It excels with its good infrastructure and its qualified specialists. This also is an opportunity to improve the service for our existing customers in Ireland emphasizes Matthias Kühn, Director of INIT Ireland."
Welcoming today's announcement, Martin Shanahan, CEO, IDA Ireland "The decision by INIT to locate their operations in Maynooth, Co. Kildare is a huge boost the local economy and points to IDA Irelands success in encouraging client companies to look at developing operations outside of Dublin. I wish INIT every success going forward.

INIT has already completed several successful projects in Ireland. Among those was the delivery of an integrated ITS solution for Dublin Bus to optimize its operations and to manage its bus services across the entire city. The system also provides a real-time feed in the National Transport Authorities (NTA) passenger information infrastructure.

About INIT
As a worldwide leading supplier of integrated planning, dispatching, telematics and ticketing systems for buses and trains, INIT has been assisting transport companies in making public transport more attractive, faster and more efficient for more than 35 years. Today, more than 600 customers rely on INIT´s innovative hard- and software solutions.

The unique selling proposition of INIT's integrated telematics system MOBILE is that it comprises all of the daily tasks of public transport providers:
• Planning & Dispatching
• Ticketing & Fare Management
• Operations Control & Real-Time Passenger Information
• Analysing & Optimising

This creates a solution that covers the complete production process of public transport providing more efficiency and enhanced service quality.

INIT products are recognized for their state-of-the-art technology and may be deployed stand alone or integrated into an intelligent overall system tailor-made for the specific needs of the individual customer. Also a step-by-step extension of the system is possible.