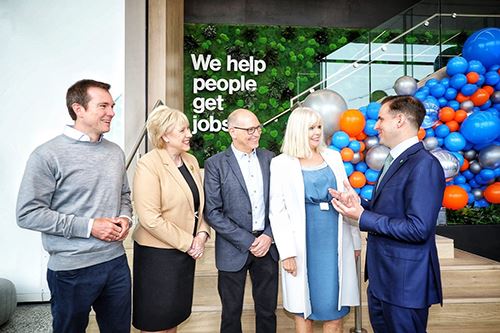 Indeed will grow from having 1,000 employees to 1,600

Global job site also announces official partnership with Team Ireland for Tokyo 2020

Dublin, 24 April 2019 - Indeed, the world's largest job site, today announced the creation of 600 new roles at its Dublin-based headquarters for Europe, the Middle East and Africa (EMEA). The announcement was made by Indeed CEO Chris Hyams at the company's newly opened Capital Dock HQ, along with Heather Humphreys T.D., Minister for Business, Enterprise, and Innovation, Minister Mary Mitchell O'Connor T.D., Minister of State for Higher Education, and Martin Shanahan, CEO, IDA Ireland.

Indeed opened its Dublin office in 2012 and currently employs over 1,000 people in the city centre. Today's announcement of 600 new roles demonstrates Indeed's ongoing commitment to Ireland and the successful role that Dublin has played as Indeed's EMEA HQ since 2012.

Recruitment has already started for the new roles across marketing, finance, strategy, operations, sales, client services, HR and business development, which will help companies across EMEA to maximise the return on their recruitment spend, while continuing to offer the best job search experience for jobseekers. Indeed hope to fill roles within the next five years.

Those who join Indeed can expect to avail of a range of benefits, including: health insurance for both employees and their families; flexible annual leave; catered meals and snacks; weekly social events, and complimentary wellness programmes and fitness classes.

At Capital Dock today, Indeed also announced its new partnership with the Irish Olympic team.
Indeed will be supporting the journey of all Olympic hopefuls as they aim for qualification and a place on Team Ireland. Indeed's Dublin based workforce welcomed two of their new Team Ireland ambassadors; two-time Olympic Pentathlete Natalya Coyle and first time Olympic hopeful, gymnast Rhys McClenaghan. Thomas Barr and Sanita Puspure were also announced as Indeed Team Ireland ambassadors.

The commitment will extend beyond the Games itself, Indeed will collaborate with the OFI Athletes' Commission to create a programme of workshops, mentoring and job placements for athletes to help them manage their careers alongside their athletic endeavors and plan for their future working life.

The programme will be a two-way initiative, with Team Ireland athletes providing their knowledge and expertise to Indeed's Dublin based workforce. In the build up to the 2020 games, Team Ireland athletes and representatives will participate in a series of events for Indeed staff tackling topics such as leadership, resilience and the importance of mental wellbeing and mindfulness.

Commenting Chris Hyams, CEO at Indeed said: "Indeed exists to help people get jobs, and as our business grows rapidly, we need even more people to help us with this mission. I am delighted to be announcing 600 new roles in Dublin, a city that Indeed arrived in only seven years ago with just three staff. As the Irish economy has grown, Indeed has had the opportunity to grow a strong EMEA HQ here with an abundance of talented staff.

"Team Ireland represents the pursuit of excellence and the focus needed to achieve a goal. We are very proud to be part of the journey to Tokyo 2020 with all the Irish athletes hoping to realise their dreams. We hope our nearly 9,000 employees all over the world can learn from and be inspired by the many stories of determination and success that the Irish Olympic team will share with us."

Minister for Business, Enterprise and Innovation, Heather Humphreys T.D. said: "It is very positive that a leading international technology firm like Indeed will be significantly expanding its workforce in Ireland. The company's decision represents a real vote of confidence in Ireland as a place to do business and shows that the country remains highly attractive to overseas investors.

"While Indeed's expansion plans are the latest in a series of positive investments by multinational companies in Ireland, we cannot take future successes for granted. That is why the Government is continuing – including through our adoption of the Future Jobs strategy – to prepare our economy and workforce to adjust to emerging challenges and opportunities. We will remain focused on our goal of building an even more resilient and innovative economy that can evolve and prosper well into the future."

Minister of State for Higher Education, Mary Mitchell O'Connor T.D. said: "I am delighted to see the continuing expansion of Indeed and welcome the fact that it is able to offer highly skilled career opportunities to the graduates of Ireland's third level institutions. The Government is committed to ensuring that Irish universities are world class and we are fully aware that one of the key differentiators that has attracted international companies to locate here is the quality of our graduates and education system."

Martin Shanahan, CEO IDA Ireland, which supported Indeed's initial move into Ireland said: "Indeed first came to Ireland just 7 years ago to internationalise its business and to serve its growing customer base. In that time, Ireland has proven to be a superb location for the company to quickly expand its footprint into the EMEA market. Indeed is now a highly significant employer in Dublin and is firmly embedded in its business ecosystem. I am delighted to welcome Indeed's plans to further invest in its impressive new EMEA HQ in the heart of Dublin's Silicon Docks by adding another 600 roles. Indeed's drive and ambition has resulted in it being the world's largest job site and Ireland plays a very important role in the ongoing success of the company."



About Indeed
Indeed currently employs over 1,000 people in Ireland, which is its headquarters for Europe, the Middle East and Africa (EMEA). In Ireland Indeed has over 3.3 million unique visitors each month. Indeed has sites in more than 60 countries and 28 languages, and every month over 250 million jobseekers use the site to look for a new job.

For more information please visit https://ie.indeed.com/cmp/Indeed/about

Indeed's new Capital Dock office
The new space will comprise 216,000 sq ft in total - double Indeed's current space in Stephen's Green. The space will provide:

Plentiful meeting spaces from 1:1 and phone rooms, to conference rooms, an auditorium bleacher area, large training rooms, and new EMEA Idea Centre

A self-serve coffee area, large canteen space, and comfy lounges and pantries across all Indeed floors, with many offering scenic views of the river

Large fitness and games areas

Key Statistics
More people find jobs on Indeed than anywhere else.

Indeed is the #1 job site in the world and allows jobseekers to search millions of jobs on the web or mobile in over 60 countries and 28 languages.

More than 250 million people each month search for jobs, post resumes, and research companies on Indeed.
We employ nearly 9,000 employees across 29 cities in 14 countries worldwide