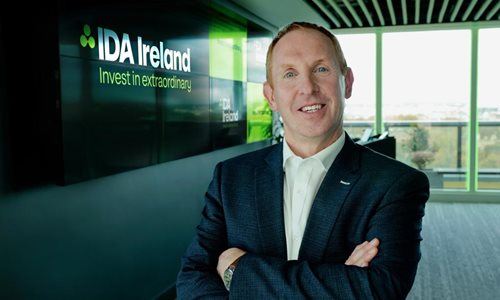 New brand reflective of IDA Ireland's commitment to global and national partnerships in a digital age
Embodies digitalisation, innovation, connectivity and a contemporary Ireland
IDA Ireland today unveiled a new corporate identity that reflects the organisation's steadfast commitment to its partnerships with multinational clients and national stakeholders. The new brand also represents Ireland's transformation to a proven location enabling high value manufacturing, research, innovation and global business services.
This is the first rebrand undertaken by IDA Ireland in over 40 years. Since the last rebrand in 1980, there have been dramatic shifts in the world of business. The new brand has been designed to better reflect the digitally advanced landscape in which IDA Ireland now operates and to represent a contemporary Ireland positioned for a digital age. This is captured in IDA Ireland's new corporate logo and new corporate tagline.
Corporate logo
The new IDA Ireland logomark, a trinity of dots, pays homage to the iconic shamrock signifying the unique partnership between IDA Ireland, national stakeholders and global companies who collaborate to drive competitiveness, innovation, sustainability and digitalisation on a global scale.
This new branding embodies the importance of IDA Ireland's relationships in attracting cutting-edge investments into Ireland and empowering client companies to thrive, evolve, digitally transform, and contribute sustainably to Irish society.
The vibrant green colour of the logomark and the bespoke typeface are designed to exude confidence with a nod to Irish personality and to distinguish IDA Ireland in the marketplace.
Digital innovation has dramatically changed the means through which IDA Ireland communicates with its audiences. The new branding has been designed for optimal use across digital communications channels to help more effectively position IDA Ireland within the fiercely competitive marketplace for foreign direct investment.
Invest in Extraordinary
At the heart of the new IDA Ireland identity lies the powerful tagline, "Invest in Extraordinary." Ireland is consistently one of the most attractive destinations for foreign direct investment (FDI) with the highest FDI per head of population in Europe.
With almost 1,800 IDA Ireland clients already committed to Ireland, successfully growing and scaling their international business, the concept of investing in the extraordinary conveys this success and ambition. It also underscores the important contribution that global companies make to the Irish economy.
Commenting on the brand launch
CEO of IDA Ireland, Michael Lohan, said:
"I am delighted to launch this exciting new brand for IDA Ireland. This modern take will ensure that IDA Ireland and indeed, Ireland, stand out in the increasingly competitive global environment for foreign direct investment. The new identity is synonymous with the vibrant, innovative country we represent. It symbolises a contemporary, multicultural Ireland, with a thriving dynamic workforce. Our new brand is a positive development, as it not only reflects our proud heritage of more than 70 years securing FDI, but more importantly, it asserts our ongoing commitment to transforming for the future."