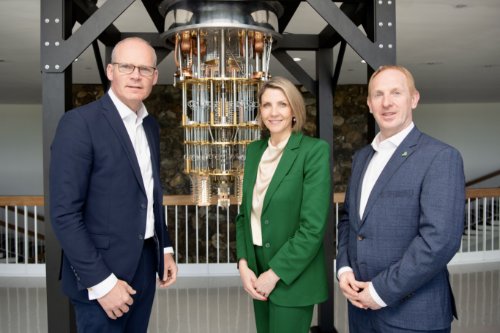 Dublin, 18th May, 2023
– Minister for Enterprise, Trade and Employment Simon Coveney TD and IDA Ireland today welcomed the news that IBM is launching a further significant phase to a multi-year transformational training programme across its research and digital sales teams in Ireland, which is intended to be worth more than €10m over approximately the next five years. The programme is supported by the Government of Ireland through IDA Ireland.
The skills transformation is part of IBM's new 'reimagined workforce' and includes an innovative bespoke training programme under which IBM intends to hire approximately 35 pre-PhD research candidates to work at IBM's research's lab in Dublin, and train across cutting-edge technologies such as AI, quantum, information security and Accelerated Discovery. The pre-PhD programme is undertaken in conjunction with Trinity College Dublin and University College Dublin. Significant transformative skills training will also be provided to IBM's digital sales team covering sales leadership, client acquisition and a new early career development programme.
Welcoming the new investment by IBM,
Minister for Enterprise, Trade and Employment Simon Coveney TD said
: "I am pleased to see that IBM is making this new investment of over €10m across its research and digital sales teams in Ireland. The 'reimagined workforce' initiative will provide about 35 pre-PhD students with an incredible opportunity to receive the most advanced technological training available from the excellent teachers and resources in Trinity College. A culture of partnership between industry, academia and Government, is essential in promoting innovation and developing a skilled workforce, creating employment opportunities for qualified students into industry. I wish all involved the best of luck."
Headquartered in Armonk, New York, IBM has been operating in Ireland since 1956 with over 2,500 staff primarily based in Dublin, Cork and Galway; including its IBM Research lab – the only one in the EU – and its pan-European Digital Sales Centre.
Deborah Threadgold, Country General Manager, IBM Ireland
said: "IBM's business has transformed repeatedly over the six-plus decades it's been established in Ireland. Central to this ability to evolve and grow has been our capacity to attract highly skilled people, and their willingness to keep learning and developing. This innovative multi-year programme will provide the foundation for exciting developments in strategic and emerging technologies and support how we engage with our clients in their digital transformations."
Commenting on the announcement
Michael Lohan, CEO, IDA Ireland said:
''This new investment in training by IBM is most welcome news and is very much aligned to IDA Ireland's Transformation pillar that is central to our current strategy. IBM's commitment to Ireland over its long history here has played a significant role in the development of the technology and innovation ecosystem we have here today. I wish IBM every success with this multi-million-euro investment."
Quantum computing is a rapidly emerging technology that harnesses the laws of quantum mechanics, and is being explored as a technology that could solve problems too complex for classical computers.
IBM is also making contributions to help advance Ireland's quantum research and development capability, including collaborations with other research institutions, multinationals and indigenous companies through its community-driven outreach and IBM Quantum Network to help develop innovative use cases for quantum computing.