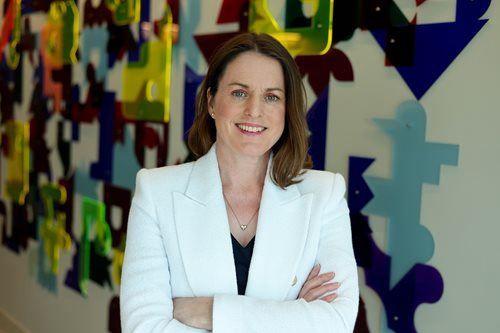 IDA Ireland has appointed Rachel Shelly to the role of Divisional Manager, Life Sciences & Food and Talent, Transformation and Innovation. Rachel will play a key leadership role in IDA as she also joins IDA's Executive Leadership team.
Rachel joined IDA Ireland in 2006 where she spent 5 years based in IDA's New York office, managing corporate client relationships and new business development across the Content, Consumer, B2B Services and Engineering sectors. On returning to Ireland in 2011, Rachel was promoted to Project Manager in the Content, Consumer & Business Services (CCBS) division where she managed the CCBS East Coast territory. In 2018, she was appointed Department Manager, Medical Technologies, based in Athlone.
Rachel is currently a Non-Executive Board member of DMI (Digital Manufacturing Ireland) and holds an MSc in Strategic Management, BBS in Marketing Management & Diploma in Change Management and her skills knowledge and experience will contribute greatly to her new role in IDA.
Michael Lohan, CEO of IDA Ireland said,
"I am delighted that Rachel is joining the Executive Leadership team. Rachel has extensive experience in the life sciences sector, particularly in her role as Head of Medical Technologies where she has been instrumental in evolving Ireland's reputation as a global Medtech cluster, while also furthering our national competency in advanced manufacturing through the establishment of Digital Manufacturing Ireland. In her new role, Rachel will be responsible for leading a strong global team in the Life Sciences & Food and Talent, Transformation and Innovation Division to win investment and identify new areas of opportunities for Ireland. I wish Rachel every success as she takes up her new position."
Rachel Shelly Bio
Rachel Shelly is a member of IDA's Senior Management Team where she has held global responsibility for Medical Technologies & Healthcare Services since 2018. Rachel has led the development and execution of departmental strategies across the MedTech sector, including new business development, strategic client management and transformation (across Talent Development, Innovation, Digitalisation and Sustainability) to enable and support foreign direct investment.
Rachel represents IDA in several fora including the Board of Digital Manufacturing Ireland, the Health Innovation Hub Ireland National Oversight Group, and Bioinnovate Advisory Board.
Prior to joining IDA Ireland, Rachel spent 15 years in the Private Sector, in a number of marketing and management roles within the Health/Tech industry. Rachel holds an MSc. in Strategic Management, a BBS in Marketing Management and a Professional Diploma in Change Management.