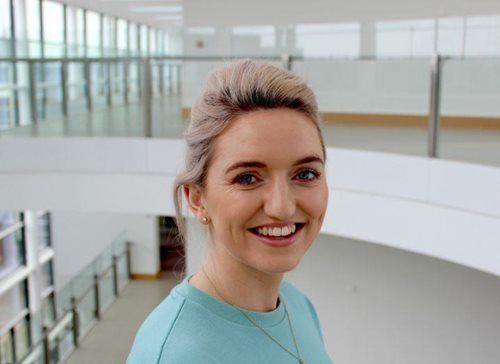 If you have ever been to an inter-county Gaelic Athletic Association (GAA) match, you will know how hard those athletes work. Gaelic football, hurling and camogie are tough, fast games that require players to be in superb physical condition throughout a long season.
Yet these players often have a lot else going on their lives – they are students with exams to think about, they have jobs to hold down and many have family commitments.
"Getting the balance right can be tough," said Ciara Duignan, a physiotherapist on a mission to better understand the bigger picture of GAA players' lives and how that can affect performance. "Combining training and matches with the rest of life, year in and year out, can take its toll and we need to do the best for players in terms of their welfare."
Duignan, who is doing a PhD in University College Dublin (UCD) at the Science Foundation Ireland (SFI) Insight Centre for Data Analytics, is taking a data-driven and holistic approach to figuring out how male football players fare across the season, and how factors such as travel and sleep quality could affect them.
Bigger picture of players' lives
Using a mix of quantitative and qualitative data from wearable trackers, daily self-reports from players, and interviews with the players, coaches and backroom team, Duignan wants to build a bigger picture of players' lives, with a particular focus on teams in the west of Ireland where panel members may need to travel several times a week for training and matches.
"The backroom team might only have access to the players for 10 hours a week or less," she said. "I want to learn what is going on with players when we don't have them and I want to grasp how it all interacts."
For her project, Duignan is plugging into data that is already being gathered. "Most teams are working with GPS units to quantify performance and load, and players fill out daily reports to rate their mood, sleep, energy levels, muscle soreness, nutrition and stress levels," she explained.
"That enables the backroom team, including the physiotherapists, to monitor players over time, and it brings up stuff that might not otherwise be obvious – like, there's something going on at home or they have exams coming up. It's also a good way to look at how sleep quality and duration links to things like psychological wellness and physical recovery."
In addition, Duignan is gathering activity data from players during the National League, asking them to wear a device on their wrist that tells her about physical movements during the day. She has also spoken to several inter-county players, coaches and backroom staff, to find out what they get from the current systems of data capture and how useful they find them.
Data and insights
We already know anecdotally that players who live and work far away from training sessions can find it tough to travel back and forth, according to Duignan, and she wants to get more concrete data on the effects.
"There are some players who might have a job in Dublin where they sit at a desk until 5pm, then they drive two hours home, then rush out to train for two hours, then eat and then they are back in the car to Dublin," she said. "We know it is a challenge and I want to see how much of a challenge it is, how it affects their sleep and psychological wellness and recovery from the training session."
By tracking groups and individual players over time through the season, Duignan hopes to get insights into how to use the data we collect on players to greater advantage. "I'm really interested not only on the physical side but on the psychological side, too, in stress and mood," she said.
"We know that if someone is coming into a training session and their muscles are not ready, we can alter the session, but what if someone is coming in stressed out or their mood isn't great? How can we do what is beneficial there?"
Sporting decisions
Growing up in her native Leitrim, GAA was a part of everyday life for Duignan and it was a deciding factor in her choosing to study physiotherapy at UCD. "At school, I was interested in art and design, and construction studies would have been another avenue for me, but my interest in sport led me to physiotherapy," she said.
"And, in hindsight, it was a great degree. It's hugely valuable because of the way they teach you; it's about problem-based learning and you build up your communication skills because you are always talking to people and asking them about their issues and what they are doing."
After a short time in private practice, Duignan decided to go into research and she started a master's degree with Prof Brian Caulfield in UCD, later switching to a PhD co-supervised by Caulfield and associate professor Catherine Blake.
Duignan is now in her third year and coming to the end of the data-collection phase.
"My data collection is determined by the GAA seasons, I can't rush it," she said. "But I will be moving to analysis in the next couple of months and I hope we can come up with better recommendations about how to use the data we collect on players and how we can support players and backroom staff during the long season to keep everyone healthy and performing well."
Claire O'Connell
This article originally appeared on www.siliconrepublic.com and can be found at:
https://www.siliconrepublic.com/innovation/ciara-duignan-gaa-insight-centre