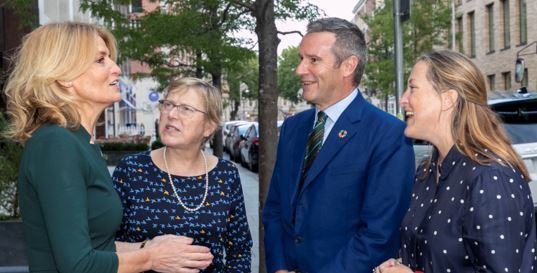 Founded in 1983, Hermes Investment Management is an active asset manager that employs over 400 staff across offices in London, New York, Singapore, Denmark, Germany and manages assets under management for institutional and wholesale clients in equities, fixed income, real estate, infrastructure, private debt and private equity asset classes.
The new Dublin office will be a UCITS and AIFM ManCo, supporting existing Hermes products.
Hermes is well recognised as a pioneer of responsible investing. The company is committed to delivering outcomes that consider the impact that investment decisions have on society, the environment and the wider world. Today, Hermes is the investment partner of choice for 630 clients in 36 different locations across the world.
Carol Mahon, Head of Ireland, Hermes Fund Management Ireland Ltd said:
"The establishment of our Irish office demonstrates our continued commitment to the evolving needs of our clients. We now have a fully operational office in Dublin, where we will have a highly-skilled team of 11 employees. We are encouraged by the successful build out of our presence in Ireland and the opportunities it presents us to extend the reach of our product offering, client service and stewardship and engagement services."
Executive Director of IDA Ireland, Mary Buckley, said:
"The decision by Hermes Investment Management to expand their operations in Dublin is testament to Ireland's thriving financial services sector which continues to grow from strength to strength. With a highly skilled and educated financial services workforce, Ireland gives companies the ability to scale quickly with access to the right talent. I wish Hermes Investment Management every success with this investment."
About Hermes Investment Management
Hermes Investment Management, a Federated Investors company, provides world-class active investment management and stewardship services. Hermes, headquartered in London, manages £36 billion in assets and offers a broad range of specialist, high-conviction investment strategies spanning listed equities, credit, real estate, infrastructure, private debt and private equity. Hermes' strategies focus not just on financial results, but also on delivering outcomes beyond performance: holistic returns that consider impacts to society, the environment and the wider world. In Hermes EOS, the company offers one of the industry's leading engagement resources, representing £501 billion of assets*. For more information, visit www.hermes-investment.com.
* Please note the total AUM figure includes £6.6bn of assets managed or under an advisory agreement by Hermes GPE LLP ("HGPE"), a joint venture between Hermes Fund Managers Limited ("HFM") and GPE Partner Limited. HGPE is an independent entity and not part of the Hermes group. £23.6m of total group AUM figure represents HFM mandates under advice. Source: Hermes as at 30 June 2019

Media contact:
Sarah Nolan
Assistant Media Relations Executive IDA Ireland
sarah.nolan@ida.ie
0871017336