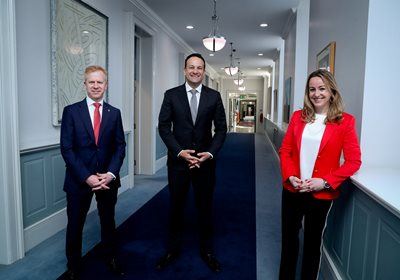 Revenue intelligence leader plans to create 80 new roles in 2022 to support rapid growth
Dublin, 28 February 2022 -- Gong, the Reality Platform(™) leveraging artificial intelligence to transform go-to-market teams, plans to create 80 new jobs in 2022 at its recently established EMEA headquarters in Dublin, the company announced. Gong is hiring for inside sales, marketing, recruiting, pre-sales, customer success, engineering and information security positions to serve its growing customer base and demand for its product offering.

Gong's technology empowers sales and other customer-facing teams by automatically capturing and analysing customer interactions, providing insights to improve deal execution and team performance. The company has been rated a "best place to work" several times, most recently by Glassdoor and Great Place To Work. The Gong platform has been ranked the best software product according to customer reviews and the company has been named one of the fastest-growing U.S.-based private companies. Gong has nearly 3,000 customers globally, of which over 300 are headquartered in Europe including Cognism, Wayflyer, Teamwork and Quinyx.

Gong's EMEA expansion is supported by the Irish Government through IDA Ireland.

Welcoming the announcement Tánaiste and Minister for Enterprise, Trade and Employment Leo Varadkar TD said, "I'm really pleased to see that Gong is expanding its presence in Ireland with the addition of 80 highly skilled jobs at its EMEA HQ in Dublin. This expansion demonstrates the company's commitment to Ireland and will allow it to benefit from our rich talent pool for years to come. The announcement from Gong once more underscores Ireland's position as a global hub for leading technology firms seeking to grow and develop their operations. I wish the team at Gong every success with this expansion."

"At Gong, we are on a mission to unlock reality to help people and companies reach their full potential," said Wendy Harris, Vice President of EMEA at Gong. "Our focus on people is at the very heart of our business, as evidenced by Gong's numerous 'best workplace' awards. We are building a talented team in Dublin that will be responsible for spearheading Gong's expansion across EMEA."

Conor O'Sullivan, Head of Global Sales at Dublin-based Wayflyer, explained, "the insights we get from Gong have been transformational for our sales team and functions across the entire business. Gong has exponentially improved our ability to execute and build a learning environment for our sales team."

"Dublin is a leading destination city for fast-growing companies to set up their European HQ in order to internationalise their business," said Martin Shanahan, CEO, IDA Ireland. "Ireland has a proven track record of being a very attractive location to technology companies looking to access a well-established talent pool to scale quickly. I wish Gong every success with this investment and offer the ongoing support of IDA Ireland."

To find out more about job opportunities at Gong, visit: www.gong.io/careers/

About Gong
Gong unlocks reality to help people and companies reach their full potential. Gong empowers customer-facing teams to take advantage of their most valuable assets – customer interactions, which the Gong platform automatically captures and analyses. Gong then delivers insights at scale, empowering revenue and go-to-market teams to determine the best actions for winning outcomes. Nearly 3,000 innovative companies like Morningstar Inc., Paychex, LinkedIn, Shopify, Slack, SproutSocial, Twilio, and Zillow trust Gong to power their customer reality. Gong is a private company headquartered in the San Francisco Bay Area. For more information visit www.gong.io.