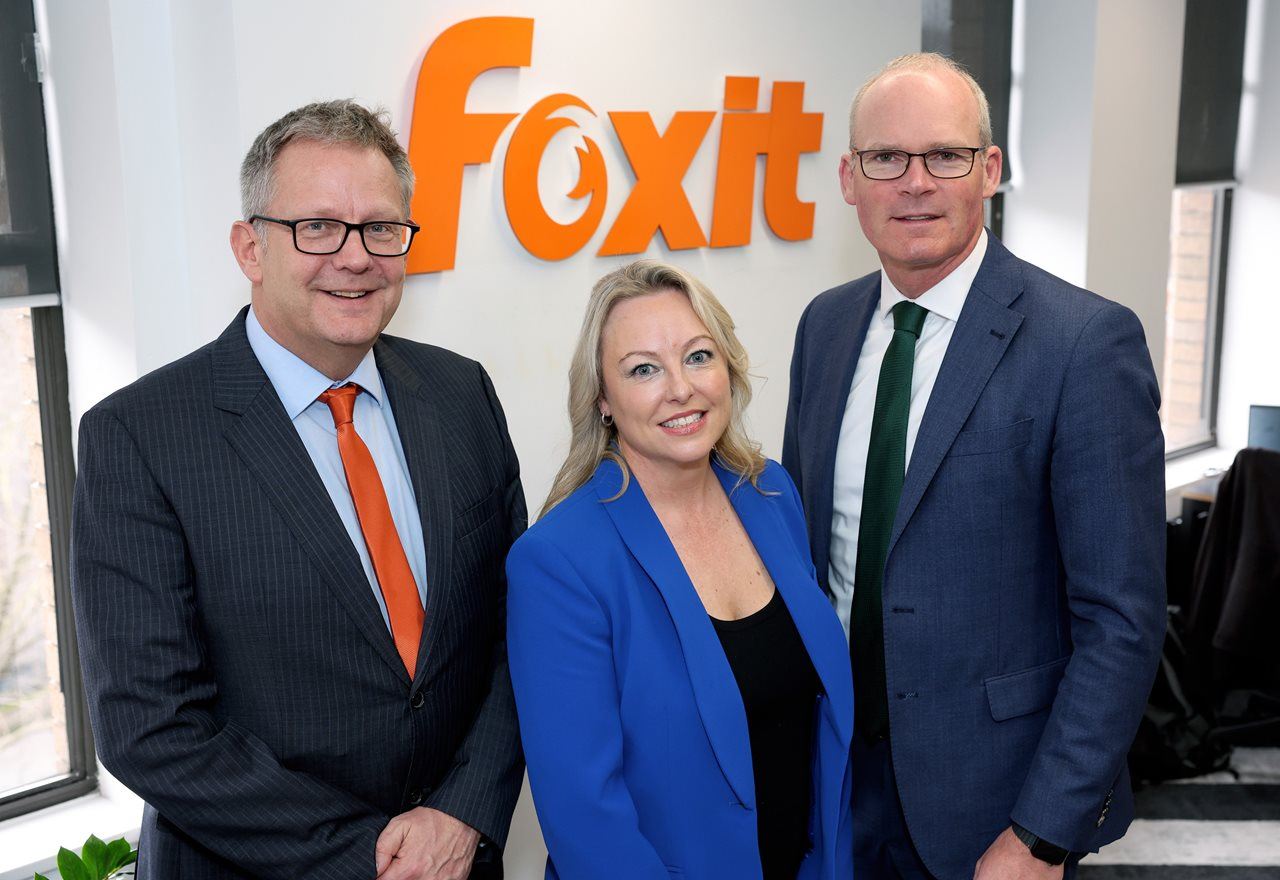 Dublin, Ireland, 29th March 2023
– IDA Ireland today announced that Foxit Software, a leading provider of innovative PDF and eSignature products and services, has opened a new European Hub at Greenway, Stephen's Green, Dublin with plans to expand their local headcount. Minister for Enterprise, Trade and Employment Simon Coveney joined the staff and senior leadership of Foxit to celebrate the official opening of their new office in Dublin.
Founded in 2001 in Fujian, China and headquartered in Fremont, California, Foxit's mission is to develop market leading and innovative PDF products and services, helping knowledge workers to increase their productivity. This strategic move to a new Dublin office represents Foxit's continued expansion into Europe, following significant growth in both Europe and Ireland over the past few years.
Foxit currently employs 25 people in Ireland, which includes a rapidly growing R&D incubation team concentrating on new products, and has plans for further investment to invest in this activity over the coming years.
Foxit first started operating remotely in Ireland in 2021 and is now relocating to the Greenway, Stephen's Green. The Dublin office will contribute to Foxit's R&D capabilities globally. The company's Irish operation is led by Irish-born Susana De Abrew, Foxit's Chief Strategy Officer.
Welcoming today's news,
Minister for Enterprise, Trade and Employment, Simon Coveney
, said, 'The news that Foxit is to establish one of its European Hubs in Dublin is very welcome. Since 2001, Foxit has provided secure PDF solutions software which enable people and organisations across the world to reduce costs and drive efficiencies. With twenty-five people currently employed in Ireland, the company has witnessed remarkable growth over the last number of years, and I wish them every continued success as they develop their business in Ireland and across Europe.''
Commenting on the announcement
Mary Buckley, Interim CEO, IDA Ireland
, said, "Ireland has a proven track record of being an attractive location for global companies looking to access a well-established talent pool to serve a growing client base across Europe. On behalf of IDA Ireland, I wish the team well in their new European Hub."
Susana De Abrew, Chief Strategy Officer at Foxit
said, "Given the large number of tech companies that have already established themselves in Ireland, it made perfect sense for us to open one of our European Hubs in Dublin. The region boasts incredible talent, exceptional IDA support, and provides an excellent gateway to Europe. We are thrilled with the growth opportunities that this move presents, and we remain committed to investing in the region."