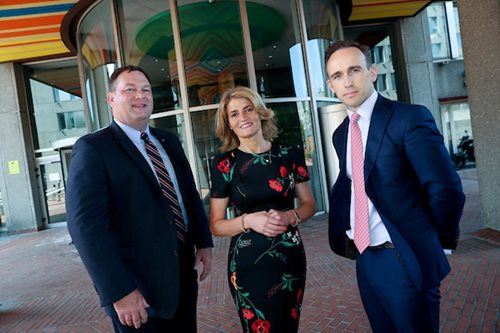 Tully Rinckey hosted inaugural reception July 4, 2018

July 5, 2018 – DUBLIN – On July 4, 2018 Tully Rinckey held an inaugural reception at Stephens Green Hibernian Club to celebrate the first step in their international expansion plans with the opening of their Dublin, Ireland office. As of July 4, 2018, Tully Rinckey has been approved to commence the practice of law by the Law Society of Ireland.

Tully Rinckey Ireland is the first step of a long-term investment focused on the international diversification of the firm's markets and practice areas. Dublin is the stepping stone to Founding Partner Mathew B. Tully's vision of becoming the go-to legal services firm for Irish and international businesses. With the help of Ireland's inward investment promotion agency, IDA Ireland, Tully Rinckey's Dublin office will serve as the platform for the global expansion of the firm throughout the European Union, and beyond.

Welcoming the announcement, the Minister for Business, Enterprise and Innovation, Ms. Heather Humphreys T.D., said "I am delighted to welcome Tully Rinckey as they formally launch their presence here in Dublin. This illustrates Ireland's growing status as an international legal centre. It also demonstrates that Ireland's common law English-speaking jurisdiction, allied with our well-respected courts system, is helping to attract international legal services providers in what is a rapidly evolving global marketplace. They will be a welcome addition for both indigenous and multinational clients based in Ireland."

Executive Director of IDA Ireland Mary Buckley said; "I am very pleased to welcome legal services firm Tully Rinckey to Ireland. It is great to hear that the firm intends to set up offices in regional locations across the country over the coming years. Tully Rinckey's investment in Ireland is yet another example of how Ireland's legal services sector is transforming into an internationally recognized litigation and arbitration hub."

Tully Rinckey Ireland has committed to hire 38 employees over the next three years. Tully Rinckey is committed to Republic-wide commitment with plans to also open offices in Galway, Limerick and Cork, to specifically service the legal needs of Ireland's regional enterprises. This will be followed by the opening of other offices throughout Europe, Asia and the Middle East – all with the purpose of providing our clients high-quality, worldwide representation and assistance.

Founding Partner Mathew B. Tully commented "After years of preparation and planning, Tully Rinckey are delighted to formally launch our Irish legal practice. The Dublin office will serve as the platform for global expansion of the firm throughout the European Union."

When an Irish business owner retains Tully Rinckey to handle their legal matters, they won't just be hiring a solicitor in Dublin – they will be hiring an international legal team connected by state-of-the-art communications network. Tully Rinckey's Dublin office will focus primarily on international business matters including labor and employment regulations, intellectual property prosecution and licensing, international trade, international tax laws, corporate real estate, mergers and acquisitions, and more. Clients will get fast, knowledgeable answers to their legal questions through the firm's high-tech voice, e-mail and video conferencing system, which links the Dublin office to the firm's offices throughout the United States.

For more information or to speak to Founding Partner Mathew B. Tully, Esq., please contact Barry Crushell at 353 86 8444740 or via email at bcrushell@tullylegal.com.