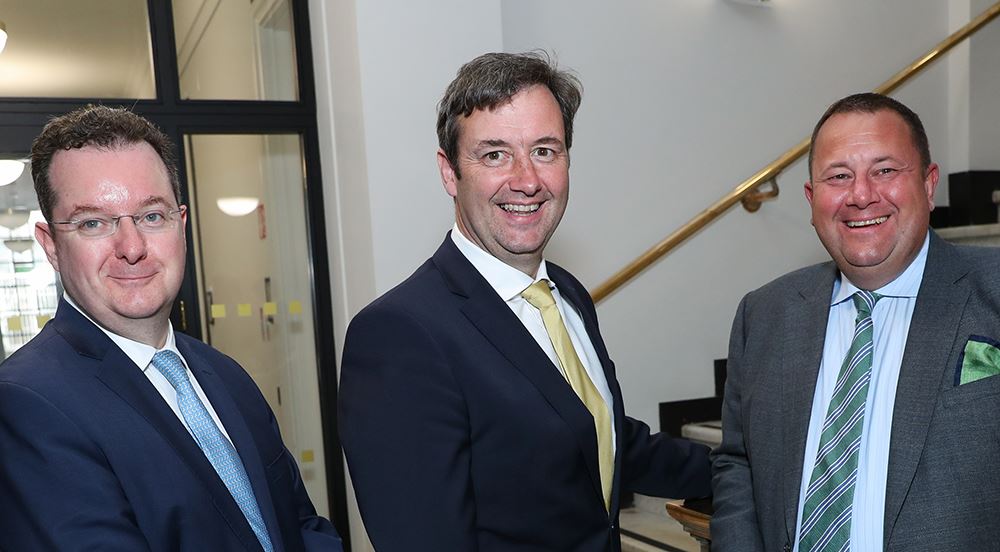 DUBLIN (Sept. 18, 2018) —EquiLend, a leading provider of trading, post-trade, market data and clearing services for the securities finance industry, today announces the opening of its office in Dublin to serve European clients following Brexit.

EquiLend's new office—at South Point, Harmony Row, Dublin, D2—is the headquarters of EquiLend Limited, the firm's Irish entity.

With the launch of an Ireland-based entity, EquiLend will be able to continue offering its trading platform post-Brexit to clients transacting in the European Union. EquiLend is registered as a multilateral trading facility (MTF) by the U.K.'s Financial Conduct Authority and is currently awaiting approval by the Central Bank of Ireland for MTF status in Ireland.

EquiLend also remains fully committed to the U.K. market. The firm will maintain its existing Canary Wharf office and MTF status in the U.K. to serve U.K.-based activity.

Laurence Marshall, managing director of EquiLend, says: "After careful consideration, we decided that Dublin was the best location for EquiLend's new EU-based entity. The ease of doing business in Ireland, its commitment to fintech and reputation as a tech center of excellence, its location in the EU and the network of talent available here together made Dublin a clear choice for EquiLend's EU operations."

EquiLend is supported by the Irish Government through IDA Ireland.

Welcoming the announcement, Heather Humphreys TD, Ireland's Minister for Business, Enterprise and Innovation, says: "I am delighted that EquiLend has decided to locate here in Dublin. Ireland is now a very attractive location for financial services companies from all over the world. Our growing expertise in the knowledge-based sectors is delivering impressive numbers of quality jobs. Our companies are increasingly able to provide the complex range of advice services required by both multinational and Irish companies based here. As we face into the challenges of Brexit, we are determined to pursue and seize new opportunities, and the Government has therefore been making strenuous efforts to ensure that we have the right conditions in place to continue to attract investments like this. I look forward to seeing our mutually beneficial relationship further develop in the coming years."

Michael D'Arcy TD, Ireland's Minister of State with responsibility for Financial Services and Insurance, says: "I welcome the decision by EquiLend to open an office in Dublin. EquiLend is a successful, innovative company, and opening an office here is a testament to the quality of Ireland's offer to global financial services companies."

Martin Shanahan, CEO, IDA Ireland, says: "EquiLend is owned by key global players in the international financial services sector, many of which have a significant presence in Ireland. EquiLend's decision to establish in Dublin to serve its growing European customer base is very welcome and points to Ireland's attractiveness for international financial services businesses."

The new location brings the total number of EquiLend offices to six, which allows the firm to offer on-the-ground support, platform training and local expertise to clients around the globe. EquiLend has existing offices in New York City (downtown and midtown), Toronto, Hong Kong and London.

About EquiLend

EquiLend is a leading provider of trading and post-trade services for the securities finance industry with offices in New York, London, Dublin, Hong Kong and Toronto. EquiLend is owned by BlackRock, Credit Suisse, Goldman Sachs, JP Morgan, JP Morgan Chase, Bank of America Merrill Lynch, Morgan Stanley, Northern Trust, State Street and UBS.

Used by securities borrowers and lenders globally, the EquiLend platform (for equities) and BondLend platform (for fixed income) automate formerly manual trading and post-trade processes in the securities finance industry. DataLend provides performance reporting and aggregated, anonymized, cleansed and standardized securities finance data covering all asset classes, regions and markets globally. EquiLend Clearing Services operates the ECS Middle Office and the ECS Gateway, which offer CCP services and connectivity.