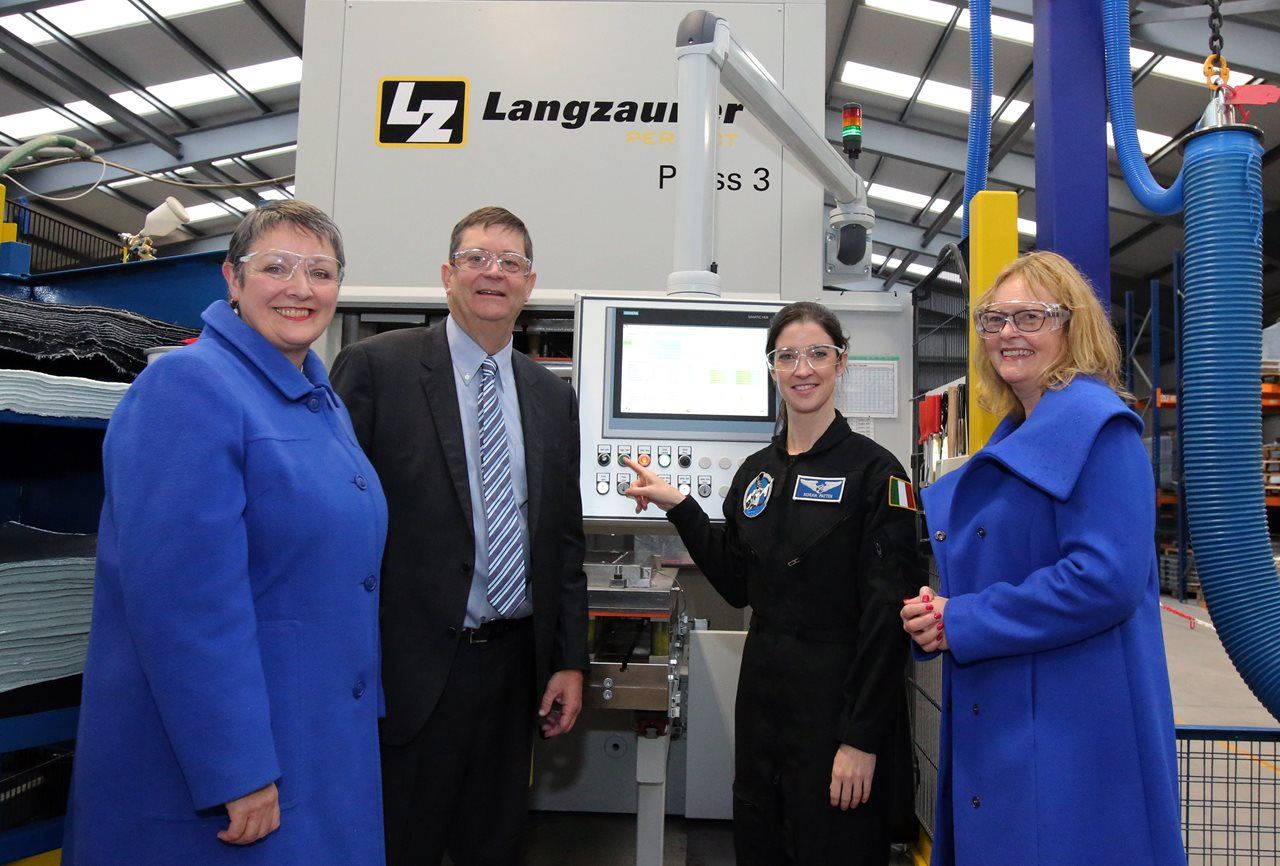 EJ, a 5th generation family-owned company headquartered in Michigan, USA, today celebrated the official opening of its new production facility in Birr, Co. Offaly. The company has operated this world class facility on its 2-hectare site in Birr since June of last year.

EJ provides a full line of access solutions for the infrastructure systems of municipalities, utility companies, airport & port authorities, and private industries. In addition to traditional materials of grey or ductile cast iron, a continuously expanding array of innovative solutions are offered in composites, fabricated steel and aluminium. EJ supplies products world-wide to infrastructure projects in six continents.

The facility was officially opened by Dr. Norah Patten, a leading Irish engineer who is bidding to become Ireland's first-ever astronaut. She is an award-winning STEM advocate and is a faculty member at the International Space University.

As well as today's official opening, EJ also announced the launch of their new range of access covers, manufactured from lightweight composite materials.
Speaking at the event, Padraig Freeman, Vice President of EJ said
"Investing in our Irish facility allows us to serve local and European market needs from Birr. It demonstrates not only our commitment to Ireland but to our wider European customers. We are now exporting high performance composite access solutions to several European markets. IDA's support enabled us strengthen our offering and diversify our production facility."
Dr. Vincent Cooper, Composite Product Manager at EJ added: "It is fitting to have Dr. Norah Patten here today to speak about the use of advanced composites in the Space industry and the importance of quality research and product development. Composites are used extensively in space applications where high-strength, lightweight materials offer huge savings in fuel. In the construction industry, the benefits of lighter weight access covers include easier handling, reduced transportation costs and a better carbon footprint."

Breda O' Toole, Head of Product Development & Transformation IDA Ireland said: "It is great to see a leader in manufacturing sustain their investment in the Midlands region. EJ in Birr is testament to what a strong team of talented people can achieve in a regional location. On behalf of IDA Ireland, I would like to congratulate the EJ team on successfully developing their manufacturing facility in Birr and wish them continued success."

About EJ:
As one of the world's leading manufacturers and distributors of high quality and innovative infrastructure access solutions, EJ is a 5th generation family-owned company headquartered in Michigan, USA that spans six continents. With manufacturing facilities, distribution hubs, sales offices, and multiple research and development centres worldwide, EJ have a complete understanding of the local customer needs in the market it serves.
With help from Enterprise Ireland and the Irish Composites Centre (IComp) based at the University of Limerick, EJ carried out an extensive research programme to devise how best to manufacture composite access covers using best in class materials and processes. The result was the industry's first independently certified range of composite products to meet the latest European product standard requirements (EN 124:2015), which complements the wider range of cast and fabricated steel access covers by EJ.