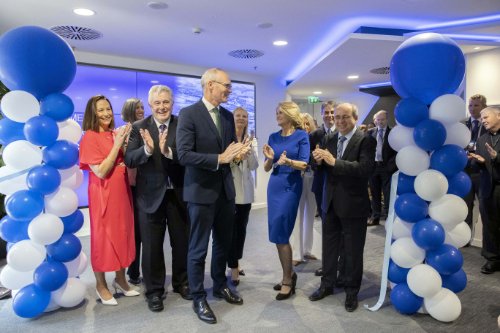 Cork, Ireland, Monday 15th May 2023
- Minister for Enterprise, Trade and Employment Simon Coveney TD joined Dell Technologies to officially launch the company's Open Telecom Ecosystem Lab at the company's campus in Ovens, Co. Cork.
As the company's only Open Telecom Ecosystem Lab outside the US, the facility provides an innovation testbed for telecoms and technology leaders across Europe, the Middle East and Africa (EMEA). The first-of-its-kind facility in Ireland connects leading engineers at Dell with telecom providers as they drive digital transformation forward. The other lab is located in Round Rock, Texas.
In addition to having access to Dell's expertise and technology, customers and industry partners will be able to test and deploy open telecom solutions at the heart of 5G and 6G networks. By unlocking the business potential of 5G, the new Lab can help accelerate the development of smart manufacturing and Industry 4.0, smart mobility solutions and digital cities.
The €2m investment in the new Lab further reinforces Ireland's position as a global strategic location for Dell Technologies. The company's team members at its three campuses in Cherrywood, Cork, and Limerick have been at the forefront of embracing new technologies. In recent years, Dell has opened an Innovation Lab in Limerick and its redeveloped Customer Solutions Centre in Cork.
"As emerging technology accelerates the pace of change within every sector of our economy, it has never been more important for technology leaders and telecom providers to work together to advance Ireland's position as an innovation leader,"
said Minister for Enterprise, Trade and Employment Simon Coveney TD
at the opening of the new facility. "This investment by Dell Technologies in its new Open Telecom Ecosystem Lab is welcomed as it not only strengthens Ireland's position as a hub for emerging technology but will also help create new business opportunities linked to 5G and the future roll-out of 6G. I want to congratulate Dell Technologies on this important milestone and look forward to seeing the Lab evolve and grow."
"We're delighted to open Dell's first ever Open Telecom Ecosystem Lab outside the US here at our campus in Cork," said
Bob Savage, Regional CIO for EMEA and Cork Site Leader at Dell Technologies.
"As telecoms providers look to accelerate the pace of digital transformation within their sector, the new Lab will provide an important space to collaborate, innovate and push the boundaries of an open and modern telecom system. This new investment places Cork at the heart of Europe's open telecom ecosystem. Our talented team of engineers and leading industry partners such as Vodafone, Ericsson, VMware and Druid Software can accelerate the roll-out of next-generation services."
IDA Ireland's Executive Director Mary Buckley
who attended the event said: "Dell's decision to locate its second Open Telecom Ecosystem (OTE) Lab here at its Cork campus is very welcome news. This new lab adds engineering consultation, partner testing, and a new Ireland location for global telecom ecosystem collaboration meaning that Dell customers and partners will now have an EMEA location to collaborate across the globe on open innovation projects. I wish Dell continued success."
For more information about Dell's Open Telecoms Ecosystem Lab,
click here