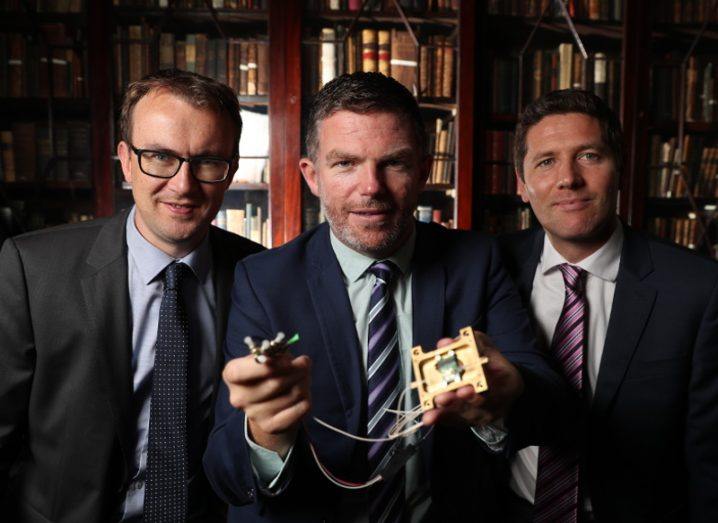 DCU spin-out company Pilot Photonics has raised close to €1m after developing some highly efficient comb source laser technology.
The investment was led by Bank of Ireland Kernel Capital Funds in syndication with Dublin Business Innovation Centre (DBIC).
Pilot Photonics has developed the world's smallest and lowest-cost optical comb source, absorbing one-third of the power of competing approaches at a fraction of the cost.
Laser-sharp vision
The start-up's technology – which is based on more than 10 years of pioneering research and development undertaken at Dublin City University, Trinity College Dublin and Tyndall National Institute – has multiple applications across the communications, energy, safety, aerospace and defence sectors globally.
Pilot Photonics was recently awarded a significant contract by the European Space Agency to develop laser communications systems for use in a range of advanced communications satellite systems.
This round of investment will enable the company to expand the team and accelerate international growth plans.
"Three years ago, we took a strategic decision to pursue the development of a completely new technology platform centred around photonic integration," said Pilot Photonics CEO Frank Smyth.
"Securing this investment from Kernel Capital and DBIC is a strong validation of that strategy and the new business opportunities it has opened up. We look forward to growing the team, and winning business in both new and existing markets," Smyth added.
John Kennedy
This article originally appeared on www.siliconrepublic.com and can be found at:
https://www.siliconrepublic.com/start-ups/pilot-photonics-dcu-lasers-funding