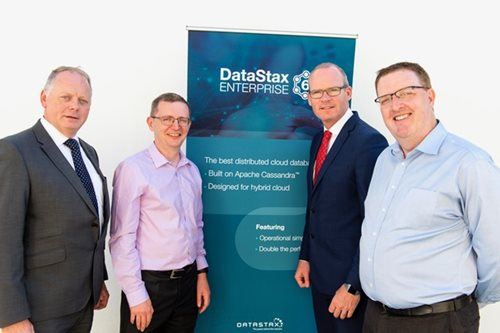 CORK, IRELAND and SANTA CLARA, CA – July 30, 2018 – DataStax, powering the Right-Now Enterprise with the always-on, distributed cloud database built on Apache Cassandra™, announced today the opening of a new office in Cork, Ireland and expects to create 30 jobs over the next 3 years with 10 of the roles being filled immediately in Finance and IT.

In this data-driven world, DataStax provides the data management layer, built on Apache Cassandra and designed for hybrid cloud, that powers every critical aspect of business, from inventory management to customer experience to supply chain. DataStax customers include some of the world's best known and biggest brands, and the company is opening its new office in Ireland to accelerate European expansion and expand its back-office operations.
Based in Santa Clara, CA, USA DataStax was founded in 2010 and currently has over 500 employees based in multiple US and international locations. The move into Ireland is a chance for DataStax to expand its back-office operations and opens the possibility for attracting a wider range of talent in Ireland and elsewhere in Europe.
Today's announcement was made by Niall Cotter Sr. Director of Revenue in the company's Finance organization and Ireland site lead . He stated, "Our investment in Ireland, and specifically in Cork, is further reflection of the reputation held by Ireland in terms of the talent and resources available and will be a key foundation of DataStax's further growth in both US and international markets."
"This is an incredibly positive move for us and for Ireland. Enterprises understand the current market imperative to build modern applications that use data in the moment to positively affect outcomes for their company. They are coming to us to help build and manage the data infrastructure behind these business-critical applications in an increasingly complex, cloud-driven technology landscape," said Robert O'Donovan, CFO at DataStax. "We're expanding to Ireland to continue to meet these needs. And, we're excited that our recruiting efforts in Cork are already underway and that those efforts will expand."
Welcoming the announcement an Tánaiste and Minister for Foreign Affairs and Trade, Simon Coveney T.D said, "Technology is central to the Government's plans for jobs and growth, and in the past two years we have added substantial jobs in this area. Today's announcement by DataStax that they are creating 30 highly skilled jobs in finance and IT is a vote of confidence in Cork's business ecosystem."
Commenting on the announcement, Mary Buckley, Executive Director, IDA Ireland, said, "Cork's tech infrastructure, talent pool, and supportive academic network have created a compelling business environment which continues to attract investment from overseas companies in the technology sector."
The office space currently secured by DataStax is in a Cork city center location. Roles in the office are being filled immediately in Finance and IT, in areas, such as accounting, revenue, pricing operations, credit and collections, and security.
For more information on careers at the DataStax Cork office, visit: https://www.datastax.com/company/careers.
About DataStax:
DataStax powers the Right-Now Enterprise with the always-on, distributed cloud database built on Apache Cassandra™ and designed for hybrid cloud. The foundation for real-time applications at massive scale, our flagship product, DataStax Enterprise, makes it possible for companies to exceed expectations through consumer and enterprise applications that provide responsive and meaningful engagement to each customer wherever they go. Our product also gives businesses full data autonomy, allowing them to retain control and strategic ownership of their most valuable asset in a hybrid cloud world. DataStax helps more than 400 of the world's leading brands like Capital One, Cisco, Comcast, eBay, McDonald's, Microsoft, Safeway, Sony, UBS, and Walmart transform their businesses through right-now applications focused on enterprise optimization and customer experience. For more information, visit DataStax.com and follow us on @DataStax.
DataStax is a registered trademark of DataStax, Inc. and its subsidiaries in the United States and/or other countries. Apache Cassandra is a trademark of the Apache Software Foundation or its subsidiaries in Canada, the United States, and/or other countries.